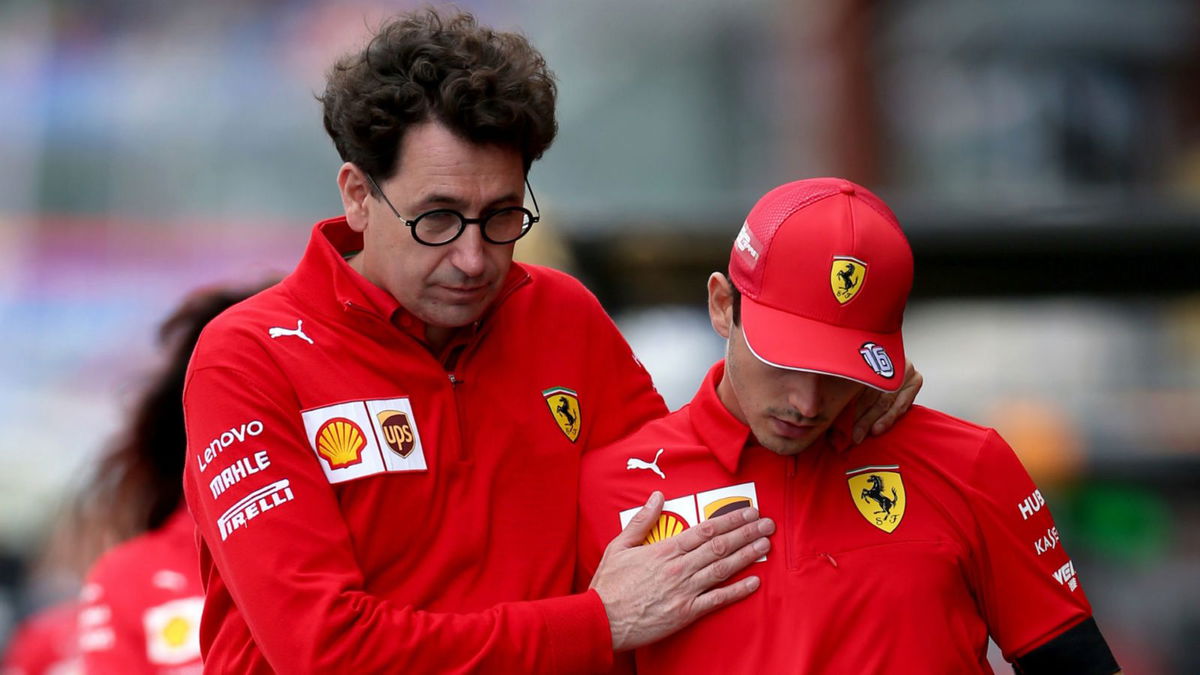 Scuderia Ferrari team principal Mattia Binotto finally broke his silence when quizzed on Charles Leclerc's skydiving escapade. Speaking at an Italian talk show – 'Che tempo che fa', Binotto and Vettel engaged in some humorous discussions and chalked out the team's goals for 2020.
Binotto reacts to Charles Leclerc skydiving
Last month, Charles Leclerc went skydiving in Dubai – leaving the Maranello outfit unimpressed. The Italian team reprimanded the Monegasque for not receiving prior permission.
Formula 1 drivers are restricted by clauses that limit what they can or cannot do when well-being is at risk. An ironclad contract protects the teams' most prized assets and can be justified considering the time and resources put in. Leclerc recently extended his F1 contract with Ferrari till 2024.
A 5-year renewal indicates the faith and trust that the Scuderia have in Charles Leclerc. This also includes numerous monetary benefits and a significant rise in annual salary.
"Actually I haven't forgiven him — he'll never do it again, I hope he'll understand," said Binotto, jokingly.
Mattia says Charles isn't forgiven for secretly going skydiving without their permission but that Charles promised not to do it again and he learned his lesson.

Seb's advice to Charles for next time: "The only mistake he did was that he didn't invite Mattia to jump with him"

— tami. (@Vetteleclerc) February 17, 2020
Sebastian Vettel, the quick-witted driver that he is, couldn't resist the urge and chimed in.
"Charles was just wrong not to invite Mattia to jump with him".
Binotto also spoke about the difficulty in getting into a winning rhythm.
Binotto admitted that producing championship-winning cars is time-consuming. But, reiterated that Ferrari is still focused on its primary goal.
Ferrari hopeful for a better season
Ferrari was in a similar position last year. An impressive launch, followed by a dominant winter testing period – which led everyone to believe Ferrari would take the fight to Mercedes. Sadly, that never happened. The season opener in Melbourne was a rude awakening for the team who struggled to catch up with their German counterparts.
The 2020 F1 season is a catalyst for the future before newer regulation comes into effect. Teams' performance this year, will indirectly affect their execution for 2021 and beyond.
"They are the best pairing in the championship, but sometimes they make a fuss," said Binotto, with a wry smile.
Leclerc and Vettel had multiple run-ins in 2019, which ultimately ended in a double DNF for the team at the Brazilian Grand Prix. Binotto, however, has asserted on multiple occasions that the pair get along quite well off the race track and bear no ill will.
Ferrari will be hoping for their drivers to perform and put an end to Mercedes' domination.