Circuit Authorities to Hold an F1 Race at Zandvoort Under One Condition
Published 05/07/2020, 12:48 PM EDT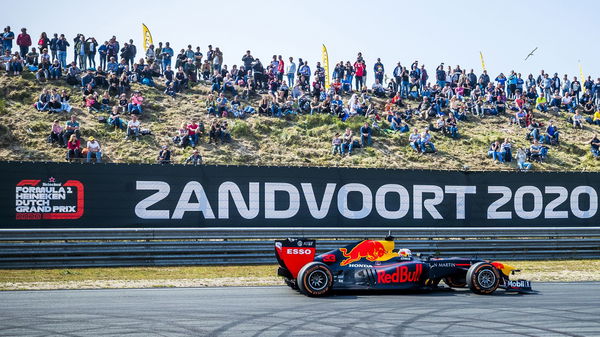 ---
---
Zandvoort will possibly have the Dutch Grand Prix away from fans if F1 takes care of the expense of the race, as per the circuit's sporting director Jan Lammers.
ADVERTISEMENT
Article continues below this ad
The Dutch Grand Prix was booked to held on May third without precedent for a long time. It was the return of F1 on the track after 35 years. Zandvoort is completely moved up to an FIA Grade 1 circuit. The entire of the Netherlands was ready for it yet it stays calm. The race is canceled off because of the COVID-19 pandemic.
The Netherlands has prohibited all significant open occasions until September. However, F1 is as yet confident of holding various European races away from fans over the late spring.
ADVERTISEMENT
Article continues below this ad
Addressing Motorsport.com, Zandvoort director Lammers said the circuit would possibly have an F1 race without fans if the game's proprietor, Liberty Media, took care of its operational expenses to compensate for the misfortune in ticket income.
Lammers says that the track is ready to help F1 in this situation but they need monetary support.
He says: "Sure. But that doesn't mean we can spend money on it.
"The fact that we won't earn anything from it, and that we would invest a lot of time and energy into it, is a way that we would be helping the sport as well.
"But it has to be a responsible thing to do for Circuit Zandvoort, especially from a financial point of view.
"To put it simply: it shouldn't cost us any money. So if FOM and Liberty want to hold a race at Zandvoort without fans, they have to pay for all of the operational costs.
"And that is quite a substantial amount of money."
Will F1 return to zandvoort?
Max Verstappen and Dutch Grand Prix managers were heartbroken on the day F1 should have raced around the redeveloped Zandvoort.
ADVERTISEMENT
Article continues below this ad
Energy had been rising since the time the race was confirmed the previous summer with a million people apparently applying for passes to watch the race. Obviously, the man behind everything was Verstappen, who's gigantic following made a Dutch GP fundamental on the schedule.
"We were all very much looking forward to having a home Grand Prix in the Netherlands. Hopefully later in the year, or whenever it's possible to race again, we can get that started," he says.
Robert van Overdijk noticed the exertion it took to get Zandvoort, a circuit considered inadmissible for present-day F1 till the important Grade 1 standard.
ADVERTISEMENT
Article continues below this ad
"My view is an empty straight stretch where thirty thousand bright orange people would have been", he said. "That hurts, but I'm not going to hang a weepy story. I'll let the pride rule.
The FIA and F1 have some big decisions on their way to a successful 2020 season. Currently, they are considering a 15-18 race season, starting with the Austrian GP.