Not many drivers can claim to have raced with the likes of Ayrton Senna and Alain Prost. Even fewer can claim to have been their teammates. Damon Hill had the privilege of racing and teaming up with F1 legends Prost and Senna. Hill recently disclosed the differences between Prost and Senna as teammates.
Damon Hill opens up on eminent teammates
Hill debuted for Williams in 1993 alongside Alain Prost- who himself was returning to the sport following a sabbatical. Prost would go on to win a 4th and final World Championship, before retiring from F1. At the same time, Hill finished an impressive third in only his first full F1 season.
"I can't judge Alain on the experience I had with him because he'd had a year off [from F1] and then he came back in, but he was quiet," said Hill, speaking to Auto Motor und Sport.
"He very quietly got on with things, he played very gently with things. He got on with his job and he basically ran out there and did laps, learned about the car, found a balance, found what he wanted.
Hill went on to add that Prost was very respectful and pleasant to work with.
Ayrton Senna, on the other hand, was the complete opposite. Senna was feared and admired by many for his no-nonsense attitude. The triple world champion was a hardcore racer who never backed down from a fight.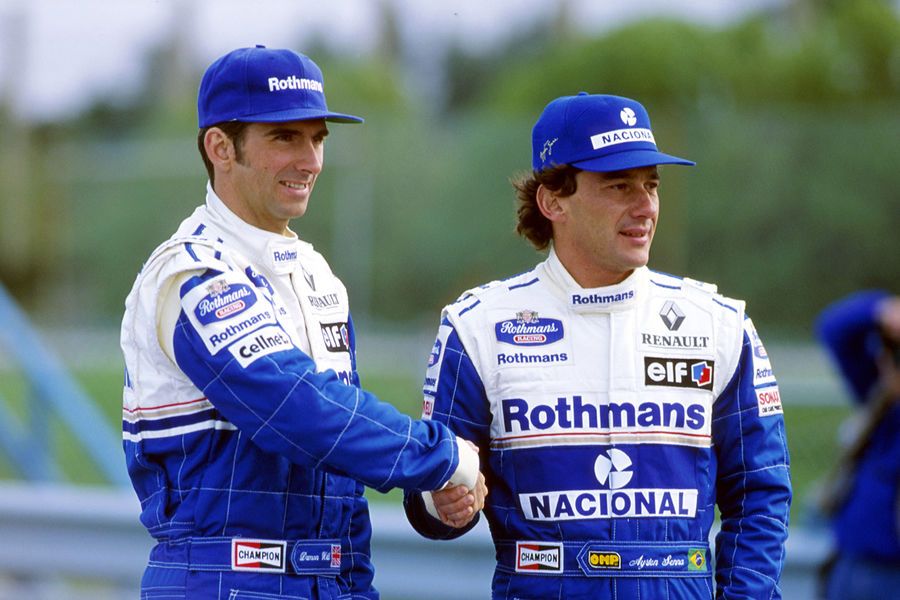 The professor and the fighter
While Prost was clever and calculating, Senna was frighteningly quick and had a penchant for winning. These fusions of attributes gave birth to one of the greatest rivalries in F1 history.
Prost retired after the 1993 season, opening up a seat at Williams. Senna, who was hungry for a championship-winning car was quick to make the switch.
In 1994, Damon Hill partnered Senna for a brief period before the latter's demise. May 1, 1994, will forever remain a black day in motorsport history. Senna, who was leading the race at Imola suffered a tragic accident.
Hill also opened up on what it was like teaming up with Senna, albeit for a brief duration.
"With Ayrton, [he was] a little bit more difficult to get to know. [He was] a big name and a star, quite formal, I would say, and intense. He often had a frown on his face. He was learning [about] Williams, a different team for the first time in a long time."
Senna's switch to Williams proved to be unfruitful. The Brazilian wasn't at ease with the car throughout the season. Sadly, Senna wouldn't finish the year and his death was a grim reminder on the dangers of motorsport.
Hill concluded by highlighting the primary difference between the two drivers. "Different characters. I think [Senna was] more aggressive in driving style than Alain."