Daniel Ricciardo Debuts Quirky New Helmet Design for the 2020 f1 Season
Published 03/12/2020, 3:19 AM EDT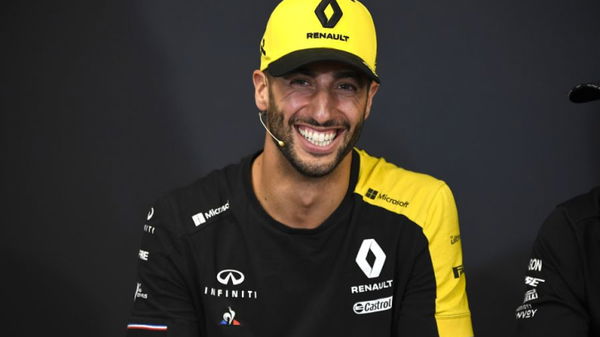 ---
---
With the FIA scrapping its helmet change rule, Daniel Ricciardo was the first F1 driver to take full advantage. The Australian posted an image of his new crash helmet on his social media accounts. Just like last year, Riccardo's come up with a design that'll surely turn heads and leave people guessing.
ADVERTISEMENT
Article continues below this ad
Daniel Ricciardo to don a new helmet in 2020
The Aussie's 2020 helmet features a grey camouflage background with colourful lettering peppered across the helmet. It also features Ricciardo's race number emblazoned on the side as a neon holographic. The fascinating design makes the number appear to 'stick out' of the helmet.
ADVERTISEMENT
Article continues below this ad
Another prominent feature includes symbols that resemble graffiti. The symbols look like the letters W or M and are prominently displayed in colourful transitions. This could be hidden symbolism considering the fact that Ricciardo posed with the Helmet in a graffiti-laden ally.
The Australian captioned his post with the words –'Become. Unstuck'. A cryptic phrase but one that totally suits Daniel Ricciardo's approach to life and racing.
Last year, Daniel Ricciardo debuted a colourful crash helmet coinciding with his switch to a new team. The helmet had the words 'Stop Being Them' prominently written along the side. It was also a fusion of multiple colours mashed together to produce an unconventional design.
Ricciardo also used a special Jack Brabham tribute helmet last year. The Aussie used Brabham's iconic grey helmet at F1's 1000th race in China.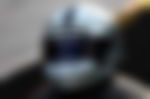 Additionally, Ricciardo honoured late basketball legend Kobe Bryant at this year's preseason testing. The Australian wore a special helmet during testing as a tribute to the NBA legend. Daniel Ricciardo decided to honour Bryant in a unique manner with a special purple-themed helmet.
ADVERTISEMENT
Article continues below this ad
FIA lifts helmet change restrictions
Recently, the FIA repealed a controversial helmet design rule which forced drivers to use the same design. Drivers could only change helmet designs once a year as a part of the regulation. The new rule lifts restrictions and allows F1 drivers to change their helmet designs at every race weekends.
Drivers will surely welcome this change and embrace the new rule. Wearing the same helmet design over the course of a season can become monotonous over time. Now, drivers can show off their artistic side with some innovative and eye-catchy crash helmets.
ADVERTISEMENT
Article continues below this ad
It will be interesting to see if drivers exploit the new rule before the Australian Grand Prix.