Daniel Ricciardo Divulges Feelings of Aussie Pride After Securing Monza Double With Piastri
Published 10/02/2021, 7:44 AM EDT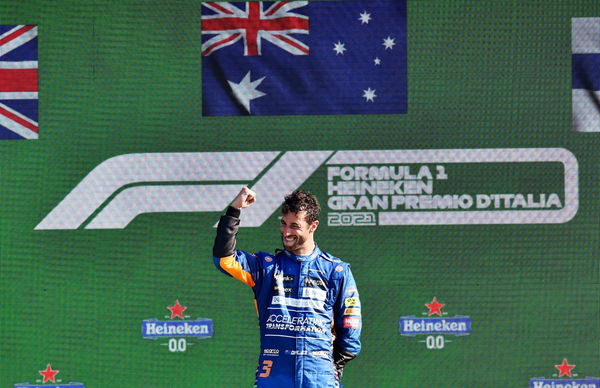 ---
---
The weekend at the temple of speed was a glorious one for the Australians. Not only did their sole F1 representative, Daniel Ricciardo, take the win at Monza, but also, Oscar Piastri held his victor's trophy high at the feature race. The Aussie drivers dominated the circuit in Monza.
ADVERTISEMENT
Article continues below this ad
Looking at his potential successor, Ricciardo shares his feeling of pride towards Piastri.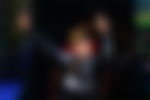 In an exclusive F1 interview, Ricciardo sat down with Lando Norris to discuss the magnificent win at Monza. Ahead of the McLaren victory, however, was the F2 feature race. Oscar Piastri took home a commanding victory in his Prema machine; his first feature race victory. As Lando observed, there were two Aussie national anthems played on the podium that day; a moment of extreme honor for both the drivers.
ADVERTISEMENT
Article continues below this ad
When asked about the F2 driver, Ricciardo said, "I'm really excited to see the likes of Oscar do well." Piastri's phenomenal racing impressed Ricciardo. "Oscar's been on it this year; and really good racecraft as well so, seems to have the whole package right now." Hopefully, we will soon see another Australian flag on an F1 chassis soon.
Daniel Ricciardo explains the Australian feeling
Ricciardo also talked about the feeling of having another driver on the grid, especially if it's someone to look up to. "I know what it was like for me when Mark Webber was in F1. And when I joined the grid, and he was still there, I was just like… it was cool. It was a cool feeling, and obviously proud to represent Australia."
Although briefly, Ricciardo shared the grid with Webber, who retired in 2013. However, now, Webber coaches Oscar Piastri. Having stepped into his boots at Red Bull, Ricciardo later shared a shoey with his fellow Australian.
However, as great as these drivers are, it takes a level of Aussie determination to make it to the big league. The McLaren driver explained, "We're not leaving our beautiful c country for nothing. We're also probably quite stubborn, so I think once we're set on our path, then it's hard for anyone to sway us away from that."
ADVERTISEMENT
Article continues below this ad
His Prema counterpart shared a similar opinion. "I think being in Australia is a bit of a blessing and a curse. I've been to a lot of countries now and it's still by far, my favorite."
ADVERTISEMENT
Article continues below this ad
As the determined Aussies hit their milestones and move on to the next, Ricciardo may soon have to share his shoey with his fellow Australian; Showing great promise, Oscar Piastri may not have to wait too long before an F1 seat. Further, with Ricciardo having found his stride in the McLaren, the Honey Badger has made his return. Aussie Aussie Aussie, Oi Oi Oi!
Watch this story: Lewis Hamilton's Incredible Car Collection