Daniel Ricciardo Gets an Alternate Career Suggestion From Fans After Antics in the Dirt Leaving Motorsport Athletes Awestruck: "Pff. Can I Join"
Published 03/16/2023, 5:00 AM EDT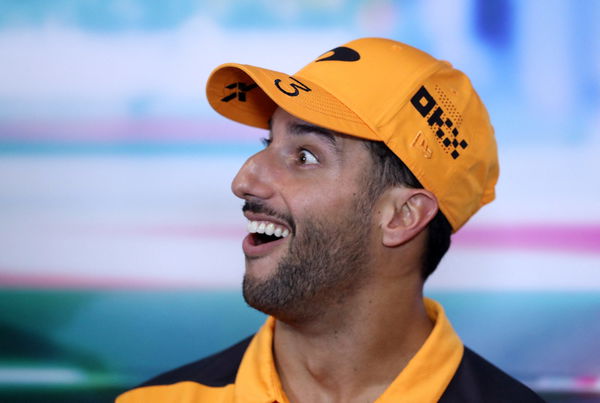 Daniel Ricciardo decided to take a year off from F1 following a failed 2-year stint at McLaren. He talked about the need to rekindle his love for F1 during the 1-year hiatus when he announced his departure from McLaren. Going by his recent recreational activities, whether he will once again find the lost love for F1 is unclear. However, it is very much possible that he might just discover his love for adventure sports on two wheels. And as far as fans are concerned, they don't really mind seeing him in a different role.
ADVERTISEMENT
Article continues below this ad
When it comes to the number of sports Danny Ric loves outside of F1, the list goes endless. Apart from being a die-hard NFL fan, he also is quite the UFC enthusiast. Last year he even shared the ring with Charles Oliveira, getting some sparring lessons from the man himself. Then comes dirt biking, and that is something the Honey Badger has quite a good command over. In the earlier seasons of Drive to Survive, we saw him take to the track with one of his mates. Now that the season is on, the Aussie once again donned the helmet but his ride had just 2 wheels.
An alternate career path emerges for Daniel Ricciardo
ADVERTISEMENT
Article continues below this ad
Ricciardo once again took to the dirt track, albeit this time with Aussie snowboarder Scott James. Daniel shared some photos of them together, posing for the camera, and then some videos of their shenanigans on the track that left the fans awestruck.
In the post's caption, he wrote, "We like moto. We don't ride enough. But we like. And we look sick."
 

View this post on Instagram

 
The post got reactions out of the who's who of the motor racing world. And some fans as well. Have a look at some of them.
IndyCar sensation Patricio O'Ward wrote: "Pff. Can i join."
Spanish Grand Prix motorcycle racer Dani Pedrosa reacted as well. "Yesssss🙌"
Scotty himself was in the comments as well. "Say less."
And then witnessing Danny's skills behind the handlebar was enough for the fans to suggest a great career path.
"DannyRic3 in MotoGP soon? 😳 (btw thank you for the update, been missing you a lot!)"
"MotoGP next?"
"Come to Austin for Moto GP🫶🫶🫶"
"brother's completing all the side quests now"
ADVERTISEMENT
Article continues below this ad
"Thank you for letting us know you're so happy and thriving 💛"
"I actually have a serious question: Do you have a workout routine for your face cheeks for continuous & extreme smiles?"
Watch This Story: Daniel Ricciardo's Best Moments in F1
ADVERTISEMENT
Article continues below this ad
"I like it too. As long as you don't injure yourself!"
Do you think Ricciardo should, at least for one weekend, give MotoGP a try? Or are the fans getting too excited over too little?
Edited By: Varunkumaar Chelladurai