Daniel Ricciardo Has a Hilarious Response to Him Wanting to Drive for Ferrari in the Future
Published 02/26/2020, 1:36 PM EST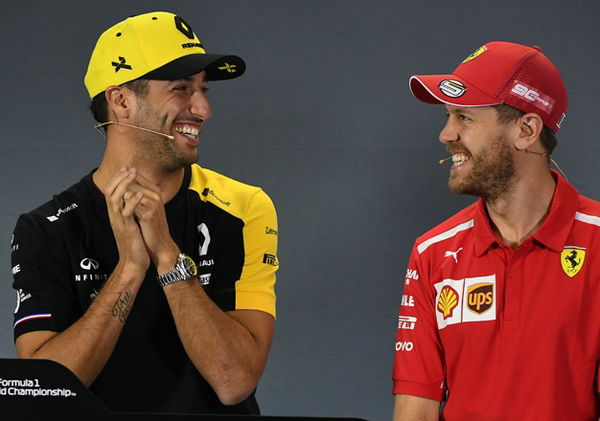 ---
---
In 2020, various contracts in F1 will expire. It includes that of Daniel Ricciardo. The Australian switched from Red Bull F1 to Renault F1 for the 2019 season and marked a two-year contract. In 2021, Daniel Ricciardo would be one of the best drivers of the past few years with seven Grand Prix triumphs since 2014, so he could likewise be utilized by other top groups.
ADVERTISEMENT
Article continues below this ad
For instance, the 30-year-old has been related with Ferrari a few times in the past. However, he should possibly have a sensible chance there if Sebastian Vettel chooses to leave Ferrari F1. Since with Charles Leclerc, he has a contract till 2024 with the team. What's more, the team boss Mattia Binotto has said Vettel is the priority for the second seat.
Should Ferrari knock on Ricciardo's side, it could be difficult for Renault to hold the Australian. "It's not about positions," emphasizes Ricciardo when asked about his future. "Of course I would like to be on the podium," he admits.
ADVERTISEMENT
Article continues below this ad
Daniel Ricciardo says he is focused on Renault F1 in the long run. He also said he isn't searching for the "next best thing" when his agreement ends this year.
The Australian has been connected to Ferrari F1 for 2021 following a troublesome first year with Renault in which he didn't score a podium finish, the best result of fourth at the Italian Grand Prix.
Daniel Ricciardo can be a potential replacement for Sebastian Vettel. He even said earlier this month he was "answering all calls" over drives for next year.
"Sebastian is a nice guy"-Daniel Ricciardo
He was shy at first when inquired as to whether he might want to race for Ferrari F1. Ricciardo then said Vettel was a "nice guy". He stressed he remains committed to Renault's long-term ambitions to fight for wins and championships.
He jokingly said "Sebastian is a nice driver. He's born two days after me but two years before me. He was born in Mannheim"
ADVERTISEMENT
Article continues below this ad
Carlos Sainz is another driver who can replace Sebastian Vettel. Sainz is happy with the rumors but emphasizes how happy he is at McLaren. "Everyone knows that I feel at home [at McLaren] and I'm talking to them about 2021."
He said it is, of course, nice to hear about his potential association with Ferrari. "I take that as a compliment."
ADVERTISEMENT
Article continues below this ad