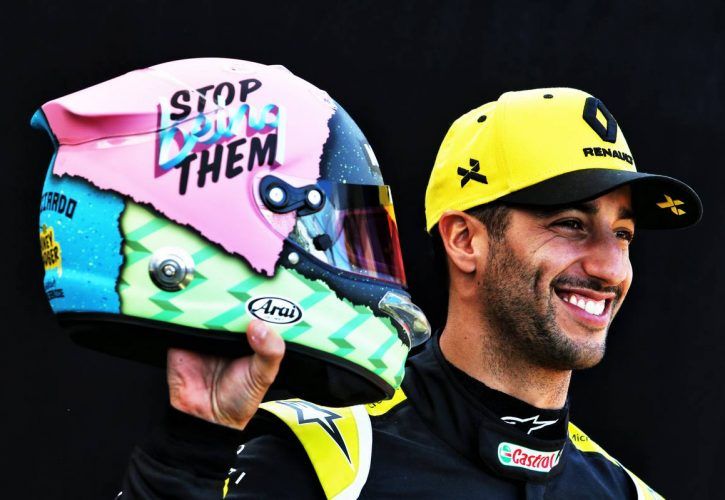 Over the past couple of weeks, a number of Formula One drivers have unveiled revamped versions of their helmets. However, Renault driver Daniel Ricciardo is not a big fan of the new lids. The Australian driver found faule with the lack of 'originality' behind the helmet designs.
Several drivers like Lando Norris, Carlos Sainz, Romain Grosjean, Lewis Hamilton, Sebastian Vettel, and many more, unveiled new lids for 2020. Evidently, Daniel Ricciardo could not understand the reason behind the subtle change in designs and called out his rivals.
I love everyone releasing their new helmet for this year. Really cute guys. Really. Original too.. Don't worry, I'll save the day.

— Daniel Ricciardo (@danielricciardo) February 15, 2020
Of course, a few of them took on the call as a challenge, and decided to upload images of their new lids and troll the Renault driver. First up was Lando Norris, asking what he was on about, before Ricciardo quipped that he should have kept it similar to the gif he uploaded. The British youngster was quick to fire back, "Took you 20 years to think of something oRiGiNaL. About time bruh."
what you tryna say bruh pic.twitter.com/s84BLhUzOK

— Lando Norris (@LandoNorris) February 15, 2020
Norris' teammate Carlos Sainz, also posted an image of his own helmet, to which Ricciardo declared that he lost his appetite. However, Sainz' counterattack of, "U dont wanna know what happened to me when I saw this thing", followed by a picture of Ricciardo's pink, blue and green helmet, was a flawless victory.
— Carlos Sainz (@Carlossainz55) February 15, 2020
U dont wanna know what happened to me when I saw this thing… pic.twitter.com/YFkqfy7V5f

— Carlos Sainz (@Carlossainz55) February 15, 2020
Finally, Romain Grosjean was the last one to reply to the thread, with a picture of his own lid. Unfortunately, Ricciardo has not replied to the Frenchman yet.
Daniel Ricciardo followed his own advice last year
When he joined Renault for the first time in 2019, Ricciardo forged a new identity for himself. So, he came out with a pink, blue and green helmet, which frankly looked like an eye sore. However, as the saying goes, "Each to their own", and the Australian was clearly happy with his original design.