Valentine's Day has officially come and passed, with all the couples doing special things with each other. In the world of Formula One though, the teams are busy with the launch of their respective cars. Renault already teased a test livery, which will be seen when Daniel Ricciardo and Esteban Ocon test the car later this month.
Speaking of Ricciardo and Valentine's Day, the Australian driver wrote a small message in the simulator room. The little 'love note' read, "Real lovers don't go out on Valentine's Day". When the message was later discovered, it transpired that the 30-year old took his own advice.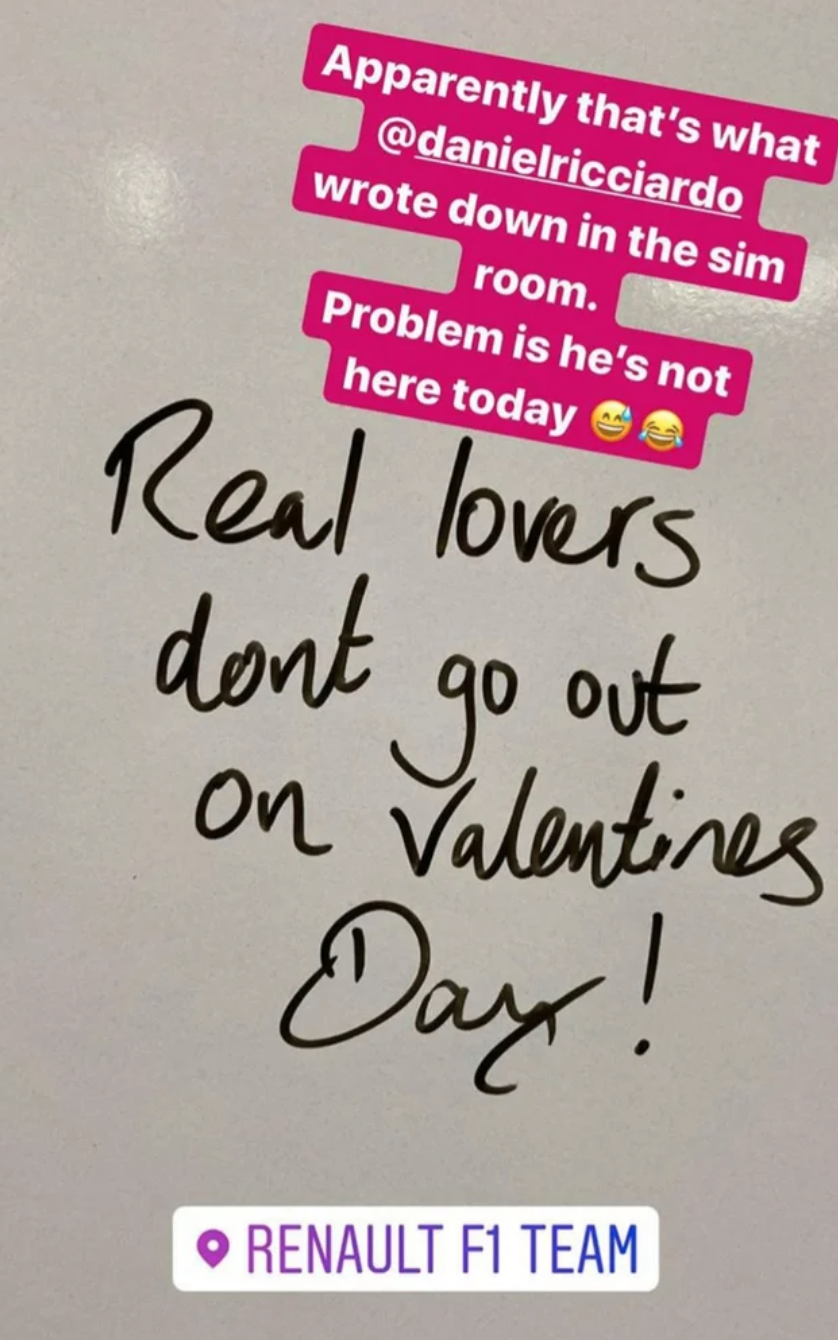 Can we expect more hilarity from Daniel Ricciardo?
Aside from Lando Norris, Alexander Albon, George Russell, and occasionally Carlos Sainz, Daniel Ricciardo is the resident F1 joker. With this message, the Perth native is just warming up his pipes in preparation for more gags in the 2020 F1 season.
Some of his most memorable moments was when he picked up Lewis Hamilton's mobile phone and fiddled around on Instagram. At the time, Hamilton was in an interview on the podium, and clearly forgot to lock his phone. The first chance he got, Ricciardo swiped it when Lewis' back was turned and went to town with it.
With regard to how Daniel Ricciardo accessed the phone, either Hamilton left his phone unlocked, or that his security was fairly lousy. Needless to say, Ricciardo was not complaining, and gave the 'Best Fans' a huge treat.
In another one of his classic antics, Daniel Ricciardo pilfered the Mercedes Twitter handler's phone. The theft took place right from his hands during the 2017 Japanese Grand Prix weekend. He then proceeded to post stories of himself. This whole incident happened while drivers were doing a grid lap. The crew members also filmed the crowd to be posted live on their respective social media accounts.