Daniel Ricciardo Reveals the Most Embarrassing Moment in His F1 Career
Published 05/21/2020, 12:44 PM EDT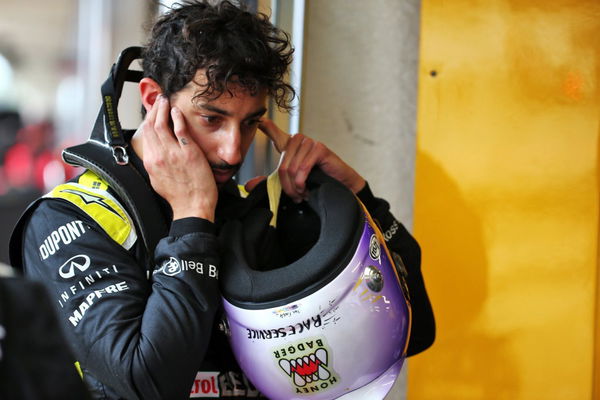 ---
---
Daniel Ricciardo, the current Renault F1 driver will be replacing Carlos Sainz Jr in McLaren for 2021 and 2022 season. The Australian pens down his strongest memories from his F1 career. He started in Formula One as a test driver for Toro Rosso. Daniel Ricciardo made his debut at the 2011 British Grand Prix with the HRT group.
ADVERTISEMENT
Article continues below this ad
He, at that point was racing for Toro Rosso for the 2012 and 2013 seasons. Ricciardo was affirmed as the replacement at Red Bull Racing for 2014 as Mark Webber left the sport. In his first season with Red Bull, Ricciardo completed third in the title. He won his initial three Formula One races in Canada, Hungary, and Belgium.
Ricciardo won the 2016 Malaysian Grand Prix, in the end fixing third in the title for the second time in three years at the 2016 Mexican Grand Prix. Ricciardo won the Azerbaijan Grand Prix in 2017 and the Chinese and Monaco Grand Prix in 2018.
ADVERTISEMENT
Article continues below this ad
During the 2018 summer break it was reported that Ricciardo would join Renault It was a 2-year contract for the 2019 and 2020 Formula One season. After two seasons at Renault, Ricciardo will move to McLaren as a swap for Carlos Sainz Jr. The current contract is for the 2021 and 2022 Formula One season. Carlos Sainz Jr is heading towards Ferrari as Sebastian Vettel failed to extend his contract.
As the whole world is in lockdown, the drivers are doing quite distinctive stuff to keep themselves busy. Young guns like Charles Leclerc, George Russel, Lando Norris are busy in Sim-Racing. Although Daniel Ricciardo is living the farm life in Australia, He recently posted a list of strongest memories from his F1 career. He calls it – Dan's Diary.
The most embarrassing moment for Daniel Ricciardo
Renault Formula 1 driver Daniel Ricciardo has utilized the coronavirus time to think about his paramount races in the game.
On Thursday, Ricciardo took to twitter to think back about a portion of his champion races.
The most embarrassing races for Daniel Ricciardo are Bahrain 2012 and Baku 2019.
ADVERTISEMENT
Article continues below this ad
The Australian had a poor start in Bahrain when he was dropped to the 11th position after turn 1. Then he had an accident with one of the Caterhams after which he had to pit for a new front wing, As a result, he was dropped to the 15th position.
"Bahrain was painful. Saturday, amazing. Qualified sixth in a Toro Rosso. Everyone was talking about what I'd done… and then I just got absolutely mauled 24 hours later. I knew I had the speed at the time but was I yet with the right mindset to race at the front, get my elbows out, believe I belonged there yet… I guess we found out, right?!"
In Baku, during the 2019 season, the Renault driver reversed into Daniil Kyvat. It looked like a rookie mistake for a driver like Daniel Ricciardo.
ADVERTISEMENT
Article continues below this ad
"I felt like such an idiot, I just screwed up. I know dany. We'd been teammates for a season and a bit. I apologized straight away. I felt pretty small after that one."