Daniel Ricciardo Tackles Awkward Ellen DeGeneres 'Pee' Question the Same Way as Lewis Hamilton
Published 11/04/2021, 2:35 AM EDT

Follow Us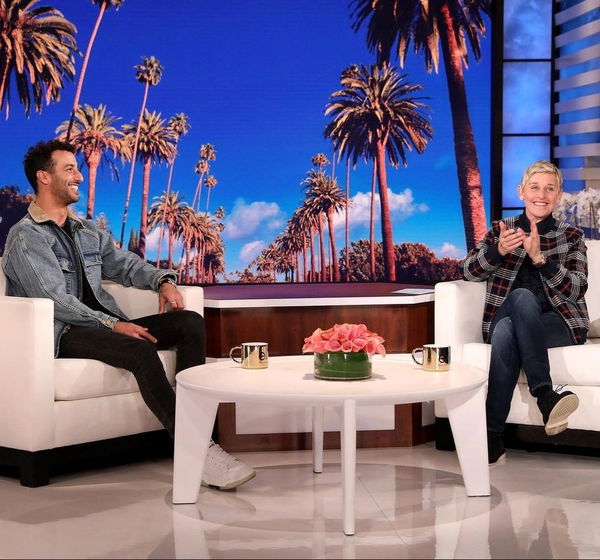 Daniel Ricciardo recently made his debut appearance in the Ellen DeGeneres Show following his outing at Circuit of The Americas. There were a lot of hilarious questions Ellen threw at the Australian, but the one that caught our attention was, 'What if you have to pee?'
It felt more like a deja vu. Hence, after some digging into the past, we realized that Ellen had asked the same question to Lewis Hamilton when he made his appearance in the show back in 2016. Let's begin with Ellen's conversation with Ricciardo in the latest episode.
As reported by News.com.au, Ellen asked, "And what if you have to pee? What if you drink before you get in the car?"
ADVERTISEMENT
Article continues below this ad
Ricciardo, along with the audience, had a laugh, and replied, "It's a question we get asked a lot, 'Have you ever peed in the car?' Everyone can relate to peeing, you need to relax. And it's hard to relax driving at those speeds.
"I've never done it. If you have to go, you just painfully hold on until the end, but every bump, every little kerb you hit hurts."
Hamilton faces similar question as Daniel Ricciardo
When the then-three-time world champion made an appearance in the Ellen Show back in 2016, where he faced a similar question to Ricciardo's. Hamilton was then explaining the G-forces, and how the drivers had to bear with it for 2 hours.
Ellen quickly intervened, and asked, "What if you have to pee? 2 hours?"
Hamilton said, "You're supposed to go in your suit. But, I can't do it. I've never done it, but, there are drivers that do."
ADVERTISEMENT
Article continues below this ad
Ellen then gave a hilarious reply. "Well, I'm glad you don't," she said. Hamilton acknowledged her sigh of relief, saying, "Yeah, me too. I just don't get it."
Overall, it is quite rare to witness F1 drivers gaining much attention from the United States. But things have changed since the arrival of Drive to Survive.
The fact that Ellen, whose career mostly revolved around the Hollywood industry with zero knowledge about racing, managed to fall in love with F1 after watching the Netflix series says it all.
ADVERTISEMENT
Article continues below this ad
F1 is witnessing one of the biggest turnarounds in their history; the fandom is exploding to big numbers. Hence, can F1 pull itself up to being one of the most recognized sports in the entire world?
Watch Story: Everything You Need to Know About Daniel Ricciardo's Famous Tattoos