Daniel Ricciardo's Teachings to Tackle Top Red Bull Boss Become a Pass Along Lesson for Max Verstappen & Those Who Follow
Published 09/26/2022, 9:02 AM EDT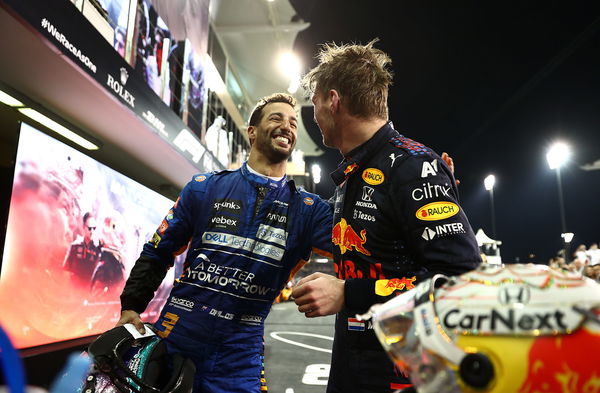 Every once in a while in F1, senior drivers step away with their wealth of experience and rookies come in eager to make a mark. However, the best-case scenario for an inexperienced driver is to partner alongside an experienced driver. The partnership of Daniel Ricciardo and Max Verstappen at Red Bull is a great example of that.
ADVERTISEMENT
Article continues below this ad
The young Dutchman learned a lot from the established Australian during their time together at Red Bull. Eventually, the team had to bank on their future champion, and Ricciardo moved on to newer pastures. If not racing, there's one thing we are sure Verstappen leaned from Ricciardo.
ADVERTISEMENT
Article continues below this ad
In an old episode of Grill the Grid from 2018, the then Red Bull teammates played a game of Truth or Lie. When asked if they've ever ignored a call from the team boss, both Ricciardo and Verstappen were guilty.
However, the Australian had an innovative excuse for such a situation. He revealed, "You answer (the call) like (mimics panting) I'm at the gym, I'll call you back later."
Interestingly enough, Verstappen passed on the knowledge parted onto him by Ricciardo to his new teammate. On Red Bull's YouTube channel when Verstappen is asked by new teammate Alex Albon, "What happens when Dr. Marko is calling you in the morning?". Verstappen said, "I'm in the gym! Sorry, I was in the gym, couldn't pick up!"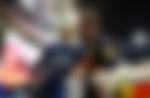 Both times, the excuse invoked laughter in the teammates. The excuse might have become a part of Red Bull Racing's new driver initiation program. Safe to assume, Daniel Ricciardo would take great pride in it.
But unfortunately, during their time at Red bull together, Verstappen and Ricciardo developed a rivalry as well
Daniel Ricciardo explains his rivalry with Max Verstappen
ADVERTISEMENT
Article continues below this ad
Ricciardo's longest-serving teammate to date has been Max Verstappen. The pair, despite a healthy relationship off-track, sometimes got in each other's way on the track, literally. On two occasions, Azerbaijan and Hungary, they sparked confrontational moments.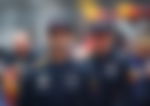 However, it wasn't all bad, Ricciardo told Maxim Magazine. He explained, "I think we pushed each other for better or worse. Whether it was a heated rivalry or a respectful intensity, we got the best out of each other. We both thrived off it."
ADVERTISEMENT
Article continues below this ad
WATCH THIS STORY: McLaren F1 Boss Uses Carlos Sainz and Daniel Ricciardo to Highlight Major Flaws With Red Bull Racing
After Ricciardo, Arguably, it is only Sergio Perez who has managed to match up to Max Verstappen so far. However, the relationship between Ricciardo and Verstappen is still alive.