"Dipped When He Stopped Winning": Lewis Hamilton's Partner in Crime Prioritizing Fresh Goals Leaves Toxic Fans to Concoct Defamatory Theories
Published 03/17/2023, 9:35 AM EDT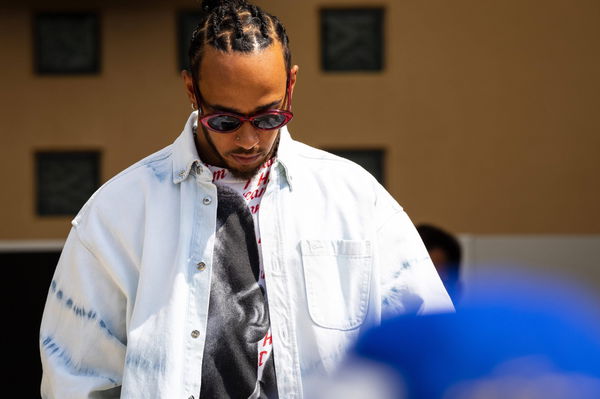 Lewis Hamilton was on top of his game for a very long time, ever since Mercedes' era of dominance started in 2014. Out of all those years, one person has been on his side since 2016. While her job description reads physical trainer, what she actually does for him is way beyond what is required of her. But commitments elsewhere and bigger ambitions have led her to finally say goodbye to her current employer. Some toxic fans, however, did not take well to her decision.
In an old interview, Hamilton recalled how his journey with Angela Cullen began. He told how he was assigned a physical trainer when he arrived in F1 and went through a couple of them. However, they couldn't help him with the injuries that developed over time. It was Angela he saw for those injuries and then asked her to be with him for the race weekends. The two never looked back ever since.
Lewis Hamilton announces Angela Cullen's departure
ADVERTISEMENT
Article continues below this ad
Hamilton announced Cullen's departure through a heartfelt message on Instagram. He told how she pushed him to get better and thanked her for making him a stronger athlete. In the end, he wished her all the luck for her future ambitions.
Some fans, however, took shots at Angela for leaving Lewis at a time when he was going through a slump. Have a look at some reactions from Twitter to the announcement.
She dipped when he stopped winning

— dystainak (@dystainak) March 17, 2023
Some took a dig, assuming Cullen was going to jump ship and join Max Verstappen.
She wanna pursue her dreams, she gonna work with Max

— Audi F1 (@logandenovan) March 17, 2023
lapdog of lewis is gone😭

— SangaréTheGOAT (@TheNextYaya) March 17, 2023
Angela said "I'm Lewis Hamilton" and left.

— Geralt (@Geralt31065966) March 17, 2023
Some took the opportunity to take a dig at Hamilton's dwindling form, which they believed was the reason for Cullen to call it quits.
She realized he's washed and moved on

— Raz R (@raz_rodgers) March 17, 2023
Oh no the super diva will be lost😂 he will take his helmet himself and will be doig his hair himself poor Lewis 😂

— FreeZzyRacing (@FreeZzyRacing) March 17, 2023
Damn Angela RUTHLESS she dropped Lewis after a bad season 😱

— Allen Key (@Jallen__19) March 17, 2023
ADVERTISEMENT
Article continues below this ad
Watch This Story: Who is Angela Cullen? Fun facts about Lewis Hamilton's blonde assistant!
ADVERTISEMENT
Article continues below this ad
Whatever may be the reason, Lewis and Angela will continue to share a special bond for the rest of their life. The highs and lows they have seen together surely must have brought them closer to each other.
Edited By: Varunkumaar Chelladurai