The consistency with the form of Haas Formula One team can be seen in the 2020 season also. The team currently runs second last in the constructors' championship. They have managed to secure just a point after the 4th race of the season at the Silverstone Circuit, England. Their French driver, Romain Grosjean has not clinched even a single point after the fourth round. Whereas, The Danish driver of the team, Kevin Magnussen managed to score a single point during the Hungarian Grand Prix.
While Magnussen's race ended prematurely, Grosjean received a warning during the race. The driver was driving defensively, which was being problematic for Lando Norris and Daniel Ricciardo. Both the drivers were on the verge of moving a lap ahead of him. Where Romain Grosjean was still pushing but claimed that he did give them the space for overtaking.
Romain Grosjean received Black and White Flag along with a verbal warning during the British Grand Prix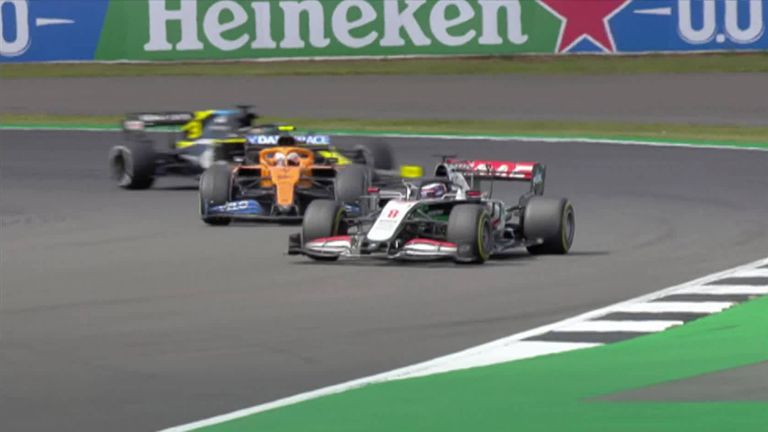 The Haas Driver's defensive tactics upon the McLaren and Renault car created a scenario at the Silverstone Circuit. To which, Romain Grosjean said that he did not regret anything for his actions and such incidents have been seen earlier also. The French driver was clearly pointing his finger on Redbull number one, Max Verstappen.
He said, "I think a few years ago we really wanted to put a rule in place that you can't move on the braking point after some of Max's defending, but there weren't any rules put in action. So yeah, I pushed a bit the limit today, got a warning, but I don't regret anything. You know I tried to do the best I can."
"I think in both cases I moved a little bit late, but I always left the car width," he said.
"They want to clarify the fact that we cannot move that late, which I agree with, but there were no real rules beforehand and Max Verstappen used it a lot during his racing, so I thought why not?"
"So yeah, I pushed a bit the limit today, got a warning, but I don't regret anything. You know I tried to do the best I can."
"Why can't I take advantage of that? Because it's not every day that we are running sixth or seventh in the race and I had to give everything I could to defend."
"Having a bit of clarification on that one would be nice, but also we don't want to push 'let them race' away from Formula 1, because you know, we want to have a fight and we want to be pushing hard," he said by meaning to get a formal clarification about what is and is not allowed when defending positions into braking zones.
Source: Motorsport.com
Dipanshu Sharma
A huge Formula One enthusiast and Sebastian Vettel as all time best driver. Chelsea fc fan and a Sports Business post graduate with a vision of growing F1 in India.