WATCH: Lewis Hamilton in Shock After Realizing He'd Equaled Michael Schumacher's F1 Wins
Published 10/12/2020, 2:25 AM EDT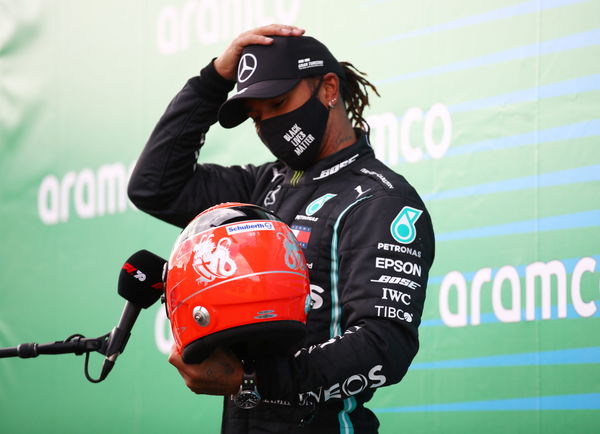 ---
---
Lewis Hamilton finally equaled Michael Schumacher's record for the number of race wins at the Eifel Grand Prix. Considering the fact that he achieved what was considered to be one of the most invincible records, Hamilton shared an emotional message to his fans through social media.
ADVERTISEMENT
Article continues below this ad
He also declared that he never knew he had equaled Michael's record until he saw the feat displayed on the display board above the Pit lane.
Lewis reacts to equalling Michael's number of race wins
ADVERTISEMENT
Article continues below this ad
The moment Lewis realized what he had done, the championship leader was clearly shocked as he took both his hands off the steering wheel and placed it above his head.
"I didn't realize until I came into the pit lane and they told me on the banner above that I had equaled Michael. So I was just so in the zone and it felt like the first win. But I can tell you, it doesn't get any easier from the 1st to the 91st and we're not done."
Lewis also shared a thankful message to his fans from around the world. "Hi guys, I just wanted to take a moment to share a moment with you.
"Today I was really honored by Michael's family when they presented me this helmet of Michael. I believe he wore this in 2012. He was with this team.
"And I just wanted to tell you how honored I am and also just how grateful I am for the continued support along this journey, 14 years. It's been a long, long time. For everybody who supported me during that time and believing in me through thick and thin," Lewis declared.
I used to be Michael in computer games: Lewis Hamilton
Lewis opened up that he used to play computer games with his brother where he chose his character as Michael Schumacher. "I remember sitting down watching the Grand Prix as I'm sure many of you did watching Michael win," Lewis said.
ADVERTISEMENT
Article continues below this ad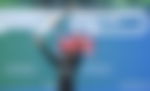 "I remember going upstairs with my brother afterwards and we'll play computer games together and I would be Michael. So it's very surreal to be here in the sport still. And in these 14 years, I've got 91 wins."
Lewis has grown from being Michael in gaming to equaling his records in Formula 1. However, the wait for upping the ante by breaking the coveted record seems like a long one.
ADVERTISEMENT
Article continues below this ad
Apart from the race wins, the chances of Hamilton equalling the German in the number of world championship titles this season are also extremely high.