"El Plan": Fernando Alonso Edges Out Lewis Hamilton & Co. as Fans Enjoy Aston Martin's Steps Toward Glory in Bahrain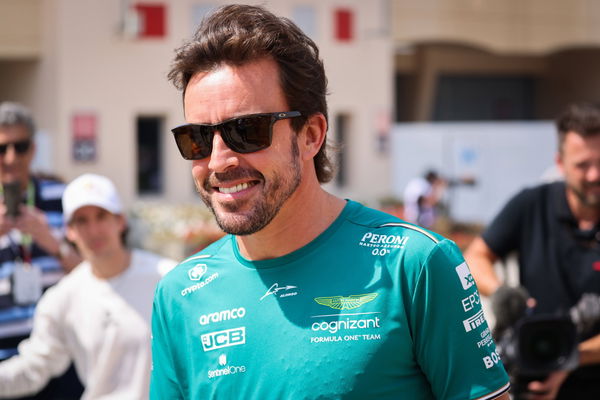 The Alpine snub pulled off by Fernando Alonso has, in fact, worked in his favor, unlike some other not-so-successful choices he has made throughout his 22-year-long career. While the world hoped that the one double world champion would beat another double world champion Max Verstappen in the 'race' to the pole, Alonso putting himself ahead of Mercedes is not a small feat either. He has not only marked his dominant position in the midfield, he even left the two Mercedes driven by Lewis Hamilton and George Russell behind.
Being stuck behind the 'anti-hero' Alonso is one of the biggest nightmares of drivers, as the word defense is synonymous with the Spaniard. However, with the masterclass the Aston Martin has pulled with developing an absolute beast in one year's time, the Matador will now attack to secure podiums and wins. Separated from the pole man by a few tenths of a second, the man is out for blood and the world cannot feel more balanced for the fans of the man who have been waiting to see him back at the top again.
The biggest surprise that was presented to the onlookers was Fernando Alonso driving a car for the team that finished seventh last year, beating the 8x champion team Mercedes.
Fans are overjoyed seeing Fernando Alonso and Aston Martin make a gigantic leap
The man who made his debut with Minardi more than two decades ago and won championship titles, beating the mighty Michael Schumacher, has been after his third for the past 17 years. A ray of hope in his new team's progress has given the Nando fans a ray of hope. Have a look at what the Twitter world has to say about this.
What are your takeaways from the qualifying session today? Do you think Aston Martin has delivered a car to race-winning or even a podium-gaining car to Fernando Alonso? With him already ahead of Mercedes in the first step of the 2023 season, can he pull off an upset?
Edited By: Varunkumaar Chelladurai