Daniel Ricciardo : Lewis Hamilton "Asked" for Shoey on Imola Podium
Published 11/01/2020, 10:33 AM EST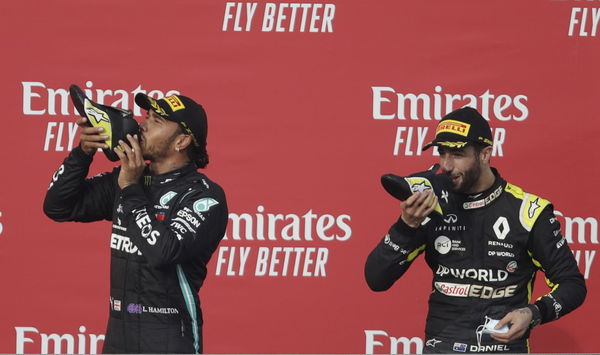 ---
---
It was an interesting race to say the least. Renault man Daniel Ricciardo joined the Mercedes duo of Lewis Hamilton and Valtteri Bottas on the podium in Imola.
ADVERTISEMENT
Article continues below this ad
While there were a number of talking points from that race, there was a big talking point from the podium celebrations held thereafter, as well.
Ricciardo, who had forgotten to do his customary shoey in Germany, remembered this time around. However, what surprised everyone was that Hamilton joined him and did a shoey of his own, drinking champagne from Ricciardo's other shoe.
ADVERTISEMENT
Article continues below this ad
Watching it live, it looked as though the good natured Australian coaxed Hamilton into doing a shoey. But the Renault man reveals that was not the case.
Following the culmination of the podium party, Ricciardo said, "I took my right show off, poured it, was about to salute the mechanics and I heard Mr. Hamilton asking me to take my left shoe off. He also drank out of my shoe today."
Ricciardo also had some interesting trivia up his sleeve. An indication of just how weird 2020 has been.
He said, "We shared one today, It was majestic. Fun fact for everyone, I think it was three years ago, on the podium, he said he would never ever drink out of my shoe and in 2020 strange things are happening."
Now we really have seen it all, haven't we? But perhaps after winning his 93 race, Hamilton can partake in an odd podium celebration. Otherwise, how on Earth would he remember every single one of those wins?
Daniel Ricciardo admits that Sergio Perez could have been in his place
While Ricciardo did drive really well to seal his podium, things could have been different had Checo stayed on the track during the late safety car period.
About that, Ricciardo said, "I was honestly surprised that he boxed. He was quicker than us today, and that's the truth. I was like, if he stays out, he should hold on to third."
Nevertheless, Ricciardo wouldn't dwell too much on the past after yet another fantastic race.
This was his second podium in the span of three races. The Australian is on fire at the moment. He currently sits in 4th place on the Drivers' Championship table with 95 points.
With 4 races to go, it'll be interesting to see if Ricciardo can end the season as the 'best of the rest.'
ADVERTISEMENT
Article continues below this ad
ADVERTISEMENT
Article continues below this ad