EssentiallySports Exclusive Interview With Jehan Daruvala – Red Bull Junior & Indian F1 Hopeful
Published 11/25/2021, 9:29 AM EST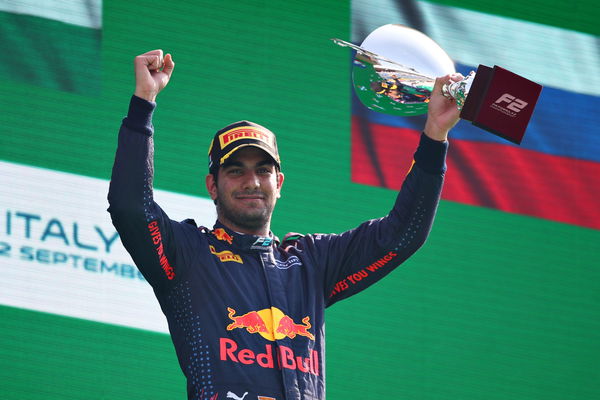 ---
---
Jehan Daruvala, the former Force India (now Aston Martin Racing) protege and the only Indian to be knocking on the doors of Formula 1 since Narain Karthikeyan and Karun Chandhok.
ADVERTISEMENT
Article continues below this ad
Indeed, it has been a glorious journey for Daruvala in racing, from fighting for the championship in Formula 3 to becoming a race-winner in Formula 2. Moreover, he's also a part of the Red Bull Driver Academy, an academy that often prefers to stick with competitive enough young talents.
EssentiallySports unravels Daruvala's passion for motorsport, his love for Fernando Alonso, and his crucial plans with Red Bull Racing for the future!
ADVERTISEMENT
Article continues below this ad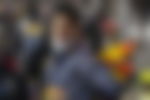 How are you doing right now?
I'm all good. I'm back in India right now.
What are you up to these days with the break going on and where are you right now?
Yeah, I'm at home in Bombay. I live in Dadar. So, yeah, right now, spending time with friends, I'm back off next week again. 
How have you been preparing for the challenge of Jeddah? Have you had any sim sessions or anything of that sort?
No, nothing yet. I'll be back next week and, yeah, I have a full month to get the preparation underway for both Jeddah and Abu Dhabi. But, obviously, Jeddah is a new circuit for me, so, there'll be a bit more of sim and preparation for the event. 
Okay, so you haven't started preparing for Jeddah yet, so you will…
Yep.
Another thing is we have fewer race weekends in F2 as compared to the previous few seasons. So, even if we have an extra sprint race every week to compensate for that on-track action. But, do you prefer the current race weekend format or would you like to go back to how things were before, you know, to not have those long breaks in between?
Yeah, so, obviously it's nice to have more races on the race weekend, but, yeah, 8 races in the year is way too less and we have too many gaps in the season. So, it looks like they already amended and made changes for next year so that there's a 14-race calendar next year in F2. So, they're obviously back to the older format and the older calendar. So, I think the right changes have been made. 
Okay, it's nice to know that we'll have more F2 races next year. So, is that the way you prefer it? Or do you like the current format or are you happy with the older format being back? 
I don't know if I'll do F2 next year. So, if I was doing F2, I'd prefer the format, but, yeah, if not, obviously there's no choice. We all of us have 8 races and you know, it's the same for everyone. So, it's not terrible, but, yeah, I think the older format is just a bit better. 
So, when did the Formula 1 bug first hit you? Or was it like any other racing series that do your interest first? 
No, it was mainly Formula 1. I still watch it with my family on the race weekends. I started watching it in 2005, 2006 when [Fernando] Alonso won his world championships with Renault. And yeah, then I've pretty much been crazy about Formula 1. 
Who has been your role model growing up?
I mean, in F1, definitely Fernando Alonso, just all these years that he was racing, you know, the fighting spirit and his attitude. He was definitely my role model growing up and outside of F1, I would say Virat Kohli (Indian Cricketer), just his leadership skills, his willingness to win, and the way he succeeded at the top for so long. It's probably him outside of racing. 
So, you started karting at the age of 13. One can say that, in fairness, it's a little bit late compared to your peers. Do you think that puts you at a slighter disadvantage to your fellow competitors?
I mean I started racing in India when I was 10. Yeah, I probably went abroad and started racing when I was 13. So, I was, say, slightly… I mean, quite a few years later than the others, but, I did a lot of karting. Also, I moved to single-seaters later than the others did. So, I had to catch up in terms of that. But, all in all, I don't only feel like I've been on any disadvantage, I've done plenty of days in Karting and cars now, and you know, for that not to bother me at all. 
And what does India need to do to make karting more accessible? There are real hubs of karting in India. So, what does India need to do to make it more accessible?
I think it's a very difficult thing to… Obviously, everyone knows that racing is an expensive sport, so, I think making it more accessible, it needs to be more sponsors and more people willing to help, say, young kids, to get into not even F1 but into the karting itself. But, of course, in order to pick up sponsors, you need to prove yourself, you know. 
So, overall, it's a difficult question to answer. I think maybe, uh, I think Mumbai Falcons are hosting like, you know like what Force India did back in the day with 'One in a Billion hunt'. So, something like that which allows everyone to enter for free and then you know, they pick out the best challenge. I think that sort of system does work out. 
You are probably the biggest name in motorsports from India right now. So, do you ever feel the pressure of that or the weight of expectations from the media and from the motorsports community in India in general? 
Not really. Obviously, there's pressure on me to go to Formula 1 but you know, it's not that easy. I think, even if you do really well in F2 sometimes, you don't get the opportunity. So, I think you need to be there at the right place at the right time. And you know, I'm just trying my best in Formula 2 and you know, I leave it to my management, my father, and everyone around me to push for me to enter Formula 1. 
Did you ever as a fan think that F1 came to India a little bit too early with the Indian Grand Prix in 2011?
Not really. I think, obviously, at that time, it was well suited and now, you know, everyone's looking forward to it. Unfortunately, the event didn't continue, but, there's nothing like it came early or anything like that. It came when it had to come and you know, and hopefully, in the future, for it to come back again. 
Do you really think it is time for F1 to look at India as a serious sporting venue? 
I don't know, they consider it to come back, but, obviously, I don't know how everything works in terms of how you get the venue and stuff, but, yeah, I think it will be good for India for F1 to come back. 
Jehan, you are a calm and courteous person. You don't really get into much controversial stuff and you don't really swear on the radio, which, I think, is a little bit of an anomaly in the world of F1. So, what are your views on that, and what is the reason behind you being like this?
I don't really think about that too much into detail, but, I think I've just been born and brought up in a place where I have to respect everyone around me, to respect myself. So, and in general, my nature is pretty calm. I do get frustrated sometimes, but that's part and parcel of sports. But, yeah, even though I drive in Formula 2 and India's real prospect into F1, so just, at the end of the day, I'm just a normal person living my life. So, for me, there's nothing special about me. I just try to be as normal as I can and that's the way I like to live. 
Talking about being a normal person, do you have a lot of hobbies out of F1, F2, and outside of motorsports in general?
I like playing a lot of sports, in general, I used to play football. But, after I hurt my knee I stopped playing. I still play Badminton, Table Tennis, Tennis, Squash quite a lot. So, in general, I'm a sports maniac and I just like to play sports when I get there. 
Does your team get worried like you getting injured in any of your sporting activities? Some of the F1 drivers like Kimi Raikkonen, they love a lot of adventure sports. So, has it ever been a bone of contention for your team? 
I think, sometimes, it just depends. Some teams, they do put it in your contract they're not allowed to sky-dive, ride motorbikes, so, it just depends on the contract you're giving. But, apart from that, I think you just be careful yourself, you can't just stop living your life entirely, everything you need to take risks… not risks I mean, not take stupid risks but still enjoy other sports and just maybe you be careful. 
Coming back to F2, so Yuki Tsunoda or Dan Ticktum; who would you pick as your ideal teammate? 
I don't know, there's no answer. I don't get into any controversy, so, as a teammate, both of them are super super quick and you know, in a junior Formula, whoever your teammate is, it doesn't really matter as much because, you know, you're not employed as such by the team, so, you race for yourself and pretty much it doesn't really matter to me who my teammate is. 
Fair enough point. But, who has been overall the most competitive teammate of your career? 
Most competitive would be Lando Norris. Obviously, I was his teammate in karting, then we were teammates in cars for a few years. So, definitely, he was the best teammate I had overall. 
How was it like competing against Ferrari's junior Robert Shwartzman and Marcus Armstrong in F3? How much confidence did it give you? 
Yeah, obviously, that was a very good season for me with Prema. I was fighting for the championship until the last. But, I think it just gives me confidence that when I have the right package and everything and things going well for me, then it's not about being at the front, it's just about being more consistent. In the last two races, I was on the front row twice. So, I do have the speed in me. It's just about pulling it together. 
Six years ago, you had a crash in Formula Renault 2 series, your car was upside down on the barrier. So, these crashes are very tough for racing drivers. So, you know, tackling a high-speed corner once again, did you have any fear or apprehension in your mind? 
I mean yeah. It took maybe one or two laps to go around that corner, you know, at full speed again, but, some of those things where you don't get hurt doesn't really bother you that much. Crashing is part of our sport. So, now we take safety for granted, so, sometimes we crash and it doesn't really bother us too much. We just jump back in the car and we go again. Back in the day, if you had a high-speed accident, more often than not, you could really hurt yourself, so, yeah, nowadays, honestly, it doesn't really bother me at least, that is just a part and parcel of the sport. We just shrug it and we get back in again and go again. 
Coming to the Red Bull Driver Academy, who was the person who approached you to join the Red Bull Driver Academy and how did that conversation pan out?
It was during my season in F3 with Prema. Obviously, I was doing quite well, so, there was interest from Dr. Marko. I had a conversation with him the first time in 2019 which is our last round and that's when we took things forward from there. 
Daniel Ricciardo once said that he did look forward to having a call with Dr. Marko after a bad race. Has that sort of a conversation ever happened with you when you had a bad race and he is on the phone calling to you? 
Definitely has happened but it works both ways. You have a good race, he'll always congratulate. And you know, I like it when someone is straight up to my face tells me what he does feel rather than, you know, someone who is nice to your face and then not nice behind your back. This way he's always honest and he doesn't let us settle for anything other than winning. That's his mentality and it pushes us to push ourselves as much as we can to always try to win there all the time. 
Who are some of the drivers that you can call 'friends' in the racing circuit? 
I have a lot of friends. I would say, I get along really well with Marcus Armstrong and Yuri Vips. They would be my closest friends in racing. Also, Lando Norris, but now, with his busy calendar, we're not able to hang out as often as we could earlier. 
Lando Norris is someone who is fond of sim racing, you know, a lot of F1 drivers; George Russell, Max Verstappen. They have taken a liking to sim racing. Do you also indulge yourself in sim racing? 
Not too much. I think in racing, sometimes we're used to so much stuff going on the track, there's so much stress sometimes and the last thing you want is to get back and drive, I think. I use a simulator more to prepare for my race weekends and to get the best preparation possible, but, apart from that, I don't use it too much, apart from, you know, if my friends are at home we'll use it to just have competition between us. 
E-sports is such a growing industry in the world. Do you think that an E-sports driver could be an F1 driver in the future?
I don't really know. I don't think it's the same thing at all. It's completely different driving a car on the simulator and that of a real car. But, I think, it's possible for an E-sports level to, then go into go-karting and you can drive fast. There's always a chance you can drive a race car fast. It's not possible to get from E-sports to F1, but it's possible from E-sports, say, go-karting, and go from there. I don't think it's possible to directly go from E-sports to F1.
ADVERTISEMENT
Article continues below this ad
Mick Schumacher is someone who has reached quite a lot in India? Did you ever have an interaction with Mick Schumacher?
Yeah, we spoke quite a few times, but, it's not like we're close friends or anything. But, you know, we respect each other, we talk to each other and, you know, that's about it. Nothing else. 
How about your plans for next season?
ADVERTISEMENT
Article continues below this ad
Nothing really yet decided. If it's entirely up to me, I would do another season in F2. But, I don't really know for sure. It just depends on what Red Bull wants to do with me, what's the right choice for my career. 
Watch Story: 5 F1 Crashes Which Stunned the World
Enjoyed reading this article? Download our exclusive app to get 24x7 coverage, latest memes and social media banter. Click here to download.