Even in Quarantine, McLaren Stand By Each Other with an Incredible Gesture
Published 03/15/2020, 11:19 AM EDT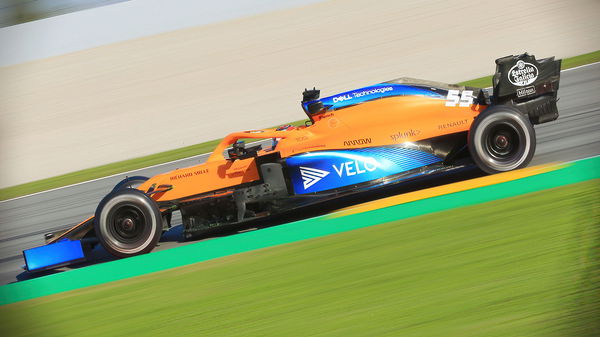 ---
---
In all honesty, quarantine can be boring if the infected victim is in isolation. There is not much to do and any human interaction is out of question. Sadly, such a fate befell the McLaren team as one of their employees tested positive, out of nine people tested. The Woking squad wasted no time in pulling out of the Australian Grand Prix this weekend.
ADVERTISEMENT
Article continues below this ad
Soon, one thing led to another and the race itself got cancelled. Meanwhile, the McLaren employees, who were in contact with their infected colleague, also stayed in quarantine. So, to help alleviate the boredom, one of the team members went shopping and bought gaming consoles for the isolated colleagues.
By far the loveliest thing I've seen today was posted by a member of @McLarenF1 who went shopping in Melbourne to buy her quarantined and isolated colleagues some games consoles and games to see them through the next fortnight. 🧡🧡🧡

— Will Buxton (@wbuxtonofficial) March 14, 2020
ADVERTISEMENT
Article continues below this ad
How is the McLaren F1 team combatting the situation?
Furthermore, team principal Andreas Seidl stayed in Melbourne to keep the team's spirits high. When the first positive coronavirus case surface, McLaren place 14 other personnel in isolation in Melbourne.
Meanwhile, the rest of the outfit flew back to the UK, and stayed home from work, on the team's advice. They also faced restrictions from entering the McLaren Technology Center for a fortnight.
ADVERTISEMENT
Article continues below this ad
Speaking to F1-Insider, Seidl said, "I sorted out the team all night and for the moment I stay with my employees in Melbourne – just to support them."
"I had to act immediately and decided to withdraw the team from the race. My decision was fully supported by the team owners. There was no other option for me. In such a case, the safety of my employees is my top priority."
With his actions, every F1 fan's respect for the German, skyrocketed. He was willing to stay on with his team and be with them in a hugely difficult time. Now, all the teams and drivers simply have to sit and wait until the situation blows over and a sense of normalcy resumes.
ADVERTISEMENT
Article continues below this ad
Sadly, it is evident that the coronavirus situation may stick around for a while. However, the McLaren Formula One team is confident that they can weather the storm. F1 is also confident that the 2020 Formula One season will commence in no time at all.