Stefano Domenicali, while discussing developments during F1's silly season, suggested that Fernando Alonso could prove to be a blessing for Carlos Sainz as he transitions to driving for Scuderia Ferrari next season. Domenicali has acted as Team Principal for the Maranello outfit and is presently CEO of Automobili Lamborghini.
Domenicali backs Carlos
Speaking with AS, Stefano said, "Fernando and Carlos are very close friends and I think that, together with Carlos' father, they will be able to transmit their experience to him." Alonso's time with the Scuderia, even if he did not win a championship with the team, has certainly taught him a great deal.
Sainz seems to be following his hero's footsteps with Renault, McLaren, and now, Ferrari, and Alonso's learnings might be useful for him.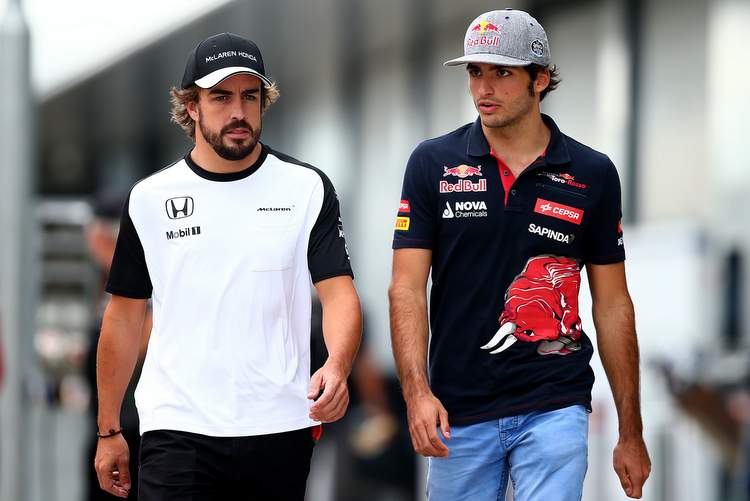 Continuing, the Italian said, "I think at this point, Alonso will help him a lot in his adaptation". Stefano also thinks that Sainz must prepare well this year to withstand the pressure of racing for a top team like Ferrari.
Will Sainz be a competitive teammate for Leclerc at Ferrari?
With Carlos Jr. all set to replace Sebastian Vettel at Ferrari in 2021, concerns of his future teammate overshadowing him have been rampant. On this, Domenicali said that Sainz has already improved a lot at McLaren and must continue to stay focused. The Italian manager, however, believes that "the most important thing was to guarantee stability and balance".
Stefano is certain that both Charles and Carlos are incredibly talented and young and must work in favor of Ferrari as the team is most important. While Ferrari seems to be heavily invested in Leclerc, many have said that there is no reason to think Carlos will be denied the opportunity to do what Charles did during the previous season.
When asked what he thinks about the 2020 F1 season which might begin with 'Ghost Races', like many other sports, Stefano said that what we are witnessing seems unreal, but it is not.
"I hope that next year F1 can once again give the show that only F1 can. The objective for this year is to achieve an F1 that costs less so there is greater equality and to guarantee the viability of the competitors in the long term."
While Carlos Sainz has shown great promise throughout his F1 career, only time will tell whether he will live up to expectations during his term at Ferrari. Do you think he will achieve the great feat with the prancing horse, and will Alonso play a crucial role in Sainz's road to a championship victory?