EXPLAINED: How Mercedes' 2020 F1 Title Win Indirectly Came Back to Haunt Them in Hungary
Published 08/02/2021, 1:39 PM EDT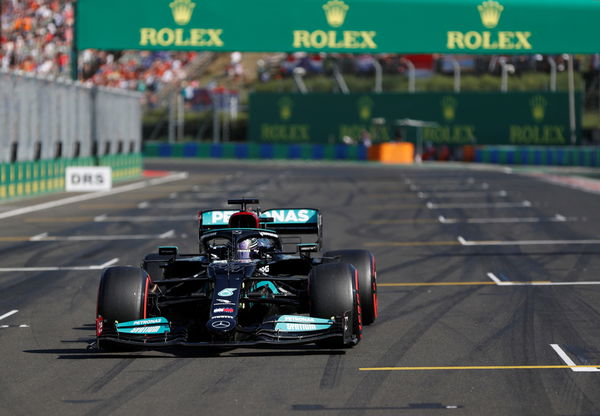 ---
---
A thrilling race at the Hungaroring gave its audience an unlikely and refreshing battle for P1 – between an Alpine and Aston Martin. Esteban Ocon and Sebastian Vettel switched the colors of the cars usually at the front of the grid. But with Red Bull falling short of one and a half cars, would it have been an easy dub for Hamilton? The odd solo restart and the resulting faulty strategies may have cost Mercedes the win.
ADVERTISEMENT
Article continues below this ad
Hamilton's pace in qualifying rewarded him with a comfortable start at pole position; the incident at turn one further eliminated anyone who came between him and the win.
ADVERTISEMENT
Article continues below this ad
In what came as a willful move by Mercedes, Hamilton stood alone at the standing restart, facing the red lights.
Ironically, it's his team's dominance over the last season that may have hindered his position. The pits are arranged in order of the previous years' constructor's championship, which put Mercedes first in the pit lane. So, had Hamilton boxed with the rest of the grid, he might have had to wait a long time for a safe release.
Hamilton faced the restart with intermediate tires, while the Formation Lap allowed the other drivers to switch their boots to slicks. Engineering director Andrew Shovlin explained: "The mindset was, given the situation and with our competitors out, one of not making a mistake by slipping off and getting tangled in an accident. So we decided to be cautious and go on the inter."
A wrong call by Mercedes
A complicated greasy start to the race shaped some tricky decisions for the teams. The red-flagging caused the track to dry out in the half-hour break, the extent of which was underestimated by everyone. Teams lined up, continuing with the inters; everyone thought they were playing safe, but the track called for slicks.
Hamilton and the Silver Arrows faced two problems after the Formation Lap. Firstly, as race leaders, they had to be the first to make the call so everyone else can make their decisions based on their choice.
But, more importantly, should Hamilton pit?
The pit lane order and its potential consequences resulted in Hamilton starting the race alone.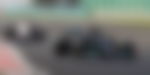 As cautious as the decision was, it did more harm than good. The cars sped through with the slicks, so much that the last car was a mere 13 seconds behind Hamilton when he pitted.
Hamilton rejoined the race in the last position, letting out a confused "am I last?" on his team radio. What further disturbed his chance of victory was Alonso's impressive 11-lap defense.
ADVERTISEMENT
Article continues below this ad
But the restart wasn't the key error.
Shovlin explained, "…we go back to the real mistake we made was we should have rolled out of the pit lane on dries, as should everyone because then you don't need to make the stop."
The engineer concluded, " It was unfortunate, and we had an easy opportunity to win the race that we failed to take but we were all in agreement that we got it wrong together."
ADVERTISEMENT
Article continues below this ad
Despite the mistakes, Lewis Hamilton gave it his all as he went from the bottom of the grid to P3. While a victory wouldn't have hurt, as Shovlin said, "it is one of those lessons you learn from, and in this industry, you try not to make the same mistake twice."
Watch this story: Lewis Hamilton: Ranking His F1 World Titles From 2008 to 2020