F1 Fans Voice Criticism As FIA Crown Max Verstappen 2021 Champion on 'Human Error' in FIA Abu Dhabi GP Report
Published 03/19/2022, 1:05 PM EDT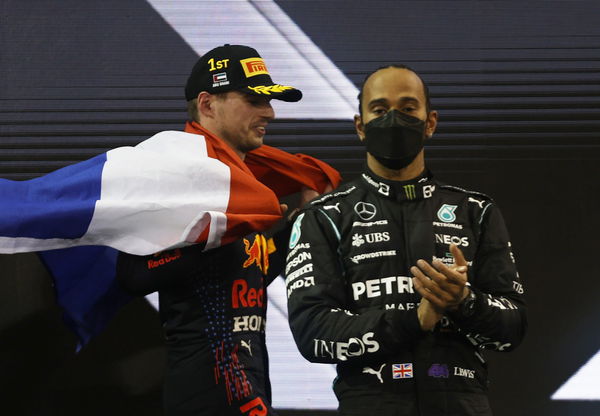 FIA World Motor Council had its meeting today regarding the Abu Dhabi Grand Prix. The findings from the report are finally made public by the F1 governing body. The findings came just ahead of Saturday's qualification for Bahrain Grand Prix.
ADVERTISEMENT
Article continues below this ad
ADVERTISEMENT
Article continues below this ad
F1 is in Bahrain for its first race of the season. The event was hosted by Royal Highness of the Kingdom of Bahrain Salman Bin Hamad Al Khalifa and organized by President of the Bahrain Motor Federation Abdullah Bin Isa Al Khalifa.
The report mentioned that it was a "human error" by then race director Michael Masi. The report further followed, "The process of identifying lapped cars has up until now been a manual one and human error lead to the fact that not all cars were allowed to un-lap themselves."
The Final Verdict on the 2021 Abu Dhabi GP
The report also stated, "The results of the 2021 Abu Dhabi Grand Prix and the FIA Formula One World Championship are valid, final, and cannot now be changed. In accordance with the rules, Mercedes made a protest to the stewards after the race, seeking to change the race classification."
"The stewards dismissed the protest and Mercedes then had an opportunity to appeal that decision to the FIA International Court of Appeal, but did not do so. There are no other available mechanisms in the rules for amending the race classification.", the FIA report also had, "In addition, the 2022 Formula 1 Sporting Regulations have been recently updated to clarify that "all" and not "any" cars must be permitted to un-lap themselves."
The FIA has said "human error" contributed to the controversial finish at in Abu Dhabi but insisted former Michael Masi acted in good faith throughout 👀 pic.twitter.com/uuVKT4YpRf

— ESPN F1 (@ESPNF1) March 19, 2022
The Abu Dhabi Grand Prix has attracted huge controversies since its conclusion. From Mercedes filing pleas against the race director to FIA sacking Michael Masi, the F1 has seen a lot lately. The governing body set up a commission meeting in February, where they allowed Verstappen to keep his maiden F1 title.
Watch This Story: F1 Clarifies Safety Car Rules
Since its release, prominent F1 drivers such as Lewis Hamilton asked the reports to be made public. And as the much anticipated Abu Dhabi report is finally out, the fans have given mixed reactions. Here is a series of reactions by fans:
I'm going to write all wrong answers in an exam, knowing that I know the right ones and then ask my teacher for full marks because I was under pressure and wrote it in good faith 🤪

— MARL (@FormuIaUno) March 19, 2022
So the @fia admit an error was made but the result is still valid to them after their internal stewarding processes failed. A bit like when the teacher lets you mark your own homework so you 'accidentally' give yourself a mark for one of your wrong answers

— Jordan ¹⁰³ (@F1_Jordan) March 19, 2022
it was an error. the person who made the error is fired. but the outcome of the error is still valid ?????????????????? this organisation is jokes man

— leens🍎 (@Ieensv5) March 19, 2022
I don't know what people expected from the Abu Dhabi report. We all saw what happened.

— Pablo Elizalde (@EliGP) March 19, 2022
Regulations weren't followed but the result was valid 🤦‍♂️clueless.

— Dan Purdy🇬🇧 🇺🇦 (@danski46) March 19, 2022
ADVERTISEMENT
Article continues below this ad
Disgusting! Broke the rules but won't change the result!

— ռath (@naththursfield) March 19, 2022
ADVERTISEMENT
Article continues below this ad
You fine Lewis for not attending the event but find Masi acted in "good faith" Make it make sense.

This is supposed to be the curtain raiser to return faith to the sport?😳

— Zee (@_MsZawadi) March 19, 2022
Edited By: Ranvijay Singh