F1 Flashback: Sebastian Vettel Almost Reveals a Secret Crush on Lewis Hamilton
Published 04/19/2020, 10:00 AM EDT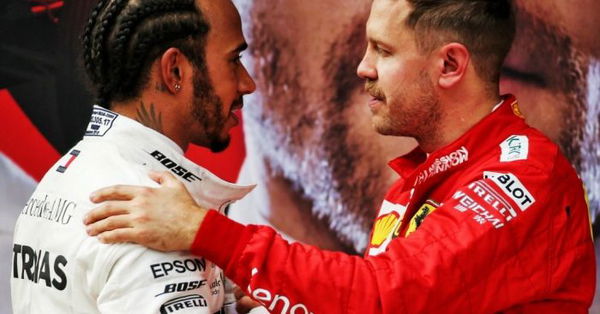 ---
---
Many F1 fans are aware that Lewis Hamilton and Sebastian Vettel are pretty good friends away from the track. Although they are fierce rivals, the two have massive amount of mutual respect. However, the post-qualifying session of the 2019 Canadian Grand Prix almost revealed something more between the two.
ADVERTISEMENT
Article continues below this ad
Sebastian Vettel had just taken pole position and admitted that the car felt really good under him. However, he didn't know how far behind Hamilton was in terms of one-lap pace. He confessed that Hamilton is normally quite handy and has decent form in Montreal. Unfortunately, he misspoke and said 'handsome' instead of handy.
ADVERTISEMENT
Article continues below this ad
How did Lewis Hamilton react to Sebastian Vettel complimenting him?
ADVERTISEMENT
Article continues below this ad
Needless to say, Hamilton's face probably matched Vettel and Leclerc's racing overalls. Now grinning, the Ferrari driver clarified that he meant to say 'handy', but 'handsome' worked as well. Of course, a bashful Lewis Hamilton giggled like a child being taken to his favourite candy store.
Meanwhile, Charles Leclerc could not help but look on bemused while the bromance took place right next to him. To be perfectly honest though, he looked a little awkward alongside Hamilton and his teammate. On a more serious note, Hamilton confessed that he was not upset about losing, because Sebastian Vettel put in an incredible lap.
However, coming back to Sebastian Vettel and Lewis Hamilton's relationship, the Canadian GP gave it a very stern test. Case in point, when the two duelled for the lead, but Vettel took to the grass and kept it. Obviously, the stewards were not too appreciative of that stunt and penalised him immediately.
ADVERTISEMENT
Article continues below this ad
Luckily, the incident did not affect their relationship, as Vettel congratulated Hamilton for winning the title later in the season. For now, Hamilton and Vettel are eagerly waiting for the 2020 season to begin and the coronavirus crisis to gradually fade away. Unfortunately, this crisis may not just disappear on its own, and people have to do the responsible thing and stay healthy.