F1 Introduces New Virtual Grand Prix Series as a Replacement for Cancelled Races
Published 03/20/2020, 7:30 AM EDT

---
---
F1 fans can rejoice because it looks like we'll be getting some racing this weekend after all. F1 announced a new Virtual Grand Prix series that'll be held in place of postponed F1 races. Formula One will hold the first virtual race this Sunday in place of the Bahrain Grand Prix.
ADVERTISEMENT
Article continues below this ad
F1 switches to Esports
With 2 races cancelled and 5 more postponed, this period of non-racing was always going to be hard for F1 fans. Well, one way to keep oneself engaged is by tuning in to watch F1 drivers and sim racers compete in the Esports event. The event will be held in place of cancelled races so we will see at least 6 Virtual Grands Prix.
ADVERTISEMENT
Article continues below this ad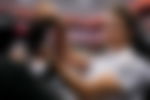 Several current F1 drivers will participate in the event. F1 didn't reveal the drivers that'll take part but it would be fair to assume that Kimi and Seb most likely won't be there. Lando Norris participated in a virtual race last week as a replacement for the Australian Grand Prix. Max Verstappen is another driver who spends a fair amount of time sim racing and often competes with Norris.
F1 announced that the series would use the official 2019 Formula One game developed by Codemasters. Participants would use a PC and races will run at a 50% distance. This will surely make for an exciting battle to see who emerges victorious among sim drivers and actual racers.
ADVERTISEMENT
Article continues below this ad
Formula One also clarified that the Virtual Grand Prix Series was a mere entertainment event without any points being awarded. Hence, this won't have any effect on the World Championship.
Formula One will broadcast the event via its social media channels – Youtube, Facebook and Twitch. The first race begins this Sunday at 8 pm GMT.
"We're excited to be a part of the new F1 Esports Virtual Grand Prix Series. With sporting events currently on hold around the world, it's great that the official F1® video game can help fill the void by bringing together an exciting line-up of talent to race online during the postponed race weekends. It's going to be competitive, action-packed, and a lot of fun for everyone involved." said Frank Sagnier, CEO of Codemasters, speaking to Formula One.
ADVERTISEMENT
Article continues below this ad
Well, this is certainly one way to beat the offseason blues!