F1 Throwback: Jacques Villeneuve's Crazy Antics at the Belgian Grand Prix
Published 04/03/2020, 5:42 AM EDT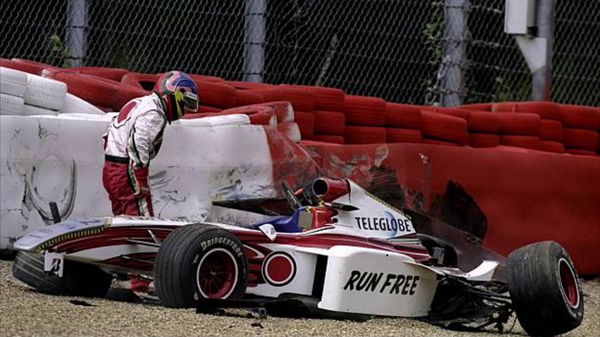 ---
---
Not many people know this but Jacques Villeneuve was quite the daredevil back in the day. He wasn't a huge risk taker back in his racing days but he attempted something crazy at the 1999 F1 Belgian Grand Prix. Villeneuve's actions that day can only be summed up as a mix of bravery and foolishness.
ADVERTISEMENT
Article continues below this ad
1999 F1 Belgian GP – Villeneuve's insane dare
Eau Rouge. It's one of the most iconic corners in one of the most iconic tracks in F1 history. The corners leading up to Eau Rouge and Raidillon have witnessed some epic and crazy moments over the years. From the chaotic 1998 race to Mark Webber's stunning pass on Fernando Alonso, this iconic turn has seen it all.
ADVERTISEMENT
Article continues below this ad
The modern F1 car can easily take Eau Rouge flat out, at close to 200 Miles per hour. However, this wasn't the case 20 years ago. Older F1 cars didn't quite generate the downforce and lacked the aerodynamic superiority of modern F1 cars. As a result, it made Eau Rouge a terrifying turn back in the day.
This didn't turn deter Jacques Villeneuve from attempting something outrageous. At a qualifying session during the 1999 Belgium Grand Prix, Villeneuve dared teammate Ricardo Zonta to take the corner flat out. The Canadian went first and as expected, suffered a spectacular crash – red flagging the session. Villeneuve emerged unharmed by the crash but his car wasn't in one piece.
Not one to back down from a fight, Ricardo Zonta attempted to take Eau Rouge flat out and the result was the same. Zonta's crash was horrifying, to say the least, but the Brazilian managed to walk away. In an attempt to gain a few tenths, BAR threw away its chances of a decent starting position for the race.
Looking back, that corner might have been Raidillon actually. Nevertheless, Villeneuve definitely proved he has the racer's mentality within, albeit slightly twisted.
Sadly, Spa Francorchamps hasn't provided any happy memories in recent times. At last year's Formula 2 race, young Anthoine Hubert suffered a terrible accident and passed away. Zonta and Villeneuve got lucky that day but the corner isn't one to be taken lightly.