WATCH: Valtteri Bottas Shows Guts, Overtakes Toro Rosso on Eau Rogue From the Outside
Published 05/02/2020, 11:12 AM EDT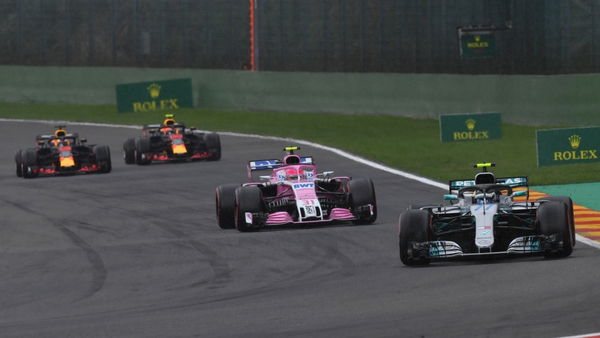 ---
---
Mercedes F1 driver Valtteri Bottas showed us the real power of his car while making a pass on Brandon Hartley's Toro Rosso at Eau Rouge. Bottas passed the Toro Rosso of Hartley on the Eau Rouge, showing us the superiority of the Mercedes car at the 2018 Belgian GP. The Toro Rosso was like a sitting duck and couldn't do anything to defend. And Bottas took full advantage of his Mercedes power while overtaking him.
ADVERTISEMENT
Article continues below this ad
Even the commentators were amused, calling it an outstanding move. He added, "He's doing what Mark Webber did to Fernando Alonso a few years ago".
ADVERTISEMENT
Article continues below this ad
Valtteri Bottas had an impressive run
Valtteri Bottas started from the back at P17 after receiving a hefty grid penalty. He got a 30-place grid penalty for using extra power units. Additionally, Nico Hulkenberg, Carlos Sainz, and Stoffel Vandoorne also received similar penalties for using extra power units. In the race, he made a number of overtakes and had a collision with Williams F1's Sergey Serotkin. The Finn got an additional 5-second penalty for causing a collision. However, he still managed to finish at P4 ahead of a rebranded Force India of Checo Perez.
ADVERTISEMENT
Article continues below this ad
Highlights of the 2018 Belgian GP
Mercedes driver Lewis Hamilton entered the round with an important lead over Sebastian Vettel in the Drivers' Championship. However, Vettel took the victory to close the gap. In the World Constructors' Championship, Mercedes led Ferrari by 10 points.
After going into administration during the Hungarian Grand Prix weekend, Force India showed up in Belgium under new proprietorship. Lawrence Stroll bought all the racing assets and operations of Force India through a consortium named Racing Point. Earlier, Sahara Force India got out of the Constructors' Championship because of their failure to continue the season. And permissions were given to the new group 'Racing Point Force India' to apply for a late entry and start their F1 journey in Belgium.
ADVERTISEMENT
Article continues below this ad
Additionally, McLaren junior driver Lando Norris had his first Grand Prix weekend, supplanting Fernando Alonso during the principal practice meeting.