F1 Throwback: When Daniel Ricciardo Gave Valtteri Bottas an 'Interesting Tactic' to Beat Lewis Hamilton
Published 07/22/2020, 5:56 AM EDT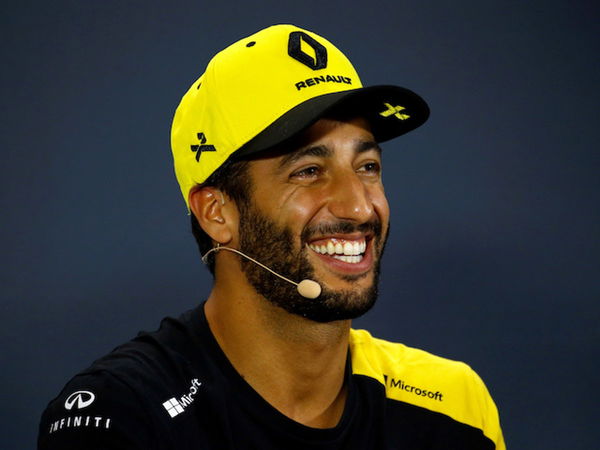 ---
---
Daniel Ricciardo is known to be quite the jokester on the F1 grid. The Australian is known for his humor, cheerful personality, and hilarious antics.
ADVERTISEMENT
Article continues below this ad
Rarely (almost never) are press conferences and interviews with Ricciardo not bound to incite laughter among those watching (and also himself).
To give you an idea of what we are talking about, here is a great example. During last year's race at Interlagos, Brazil, the Renault driver had some advice for the Mercedes man, Valtteri Bottas.
ADVERTISEMENT
Article continues below this ad
The kind of advice that the Finn's teammate, Lewis Hamilton, would definitely not have liked.
The time when Daniel Ricciardo intended to give Lewis Hamilton a nasty surprise delivered via Valtteri Bottas
At the pre-race press conference for Interlagos in 2019, Bottas was asked about his future plans. However, the Finnish driver was tight-lipped about it and said, "I have a plan for next year and I'm not really willing to share it. So we'll find out."
After hearing that, Ricciardo couldn't keep the joke to himself, so he shared it with Bottas. The man from down-under advised Bottas to "feed him (Lewis Hamilton) steak" as part of Bottas' plan for next year.
If you didn't know, the 6-time World Champion is a vegan. Hamilton is very well known for promoting plant-based food over meat.
Although Ricciardo whispered the statement to Bottas in his ear, the microphone picked it up easily. Bottas had a wide smile on his face, indicating that he either liked the joke or that statement sparked a lightbulb in his head.
ADVERTISEMENT
Article continues below this ad
However, Bottas is far too nice to pull a practical joke of that sort. Plus, he wouldn't want to lose his seat with the Silver Arrows either, so Ricciardo might have to find someone else to conduct his experiment.
Coming to the Australian's start to the 2020 season, it could be categorized as rather underwhelming. Ricciardo has only managed 8 points from the opening three races of the season. He currently sits at 11th in the Drivers' Championship standings.
With a week off, Ricciardo will take the time to assess what he can do better and recharge his batteries for the next set of triple headers.
ADVERTISEMENT
Article continues below this ad
Can he challenge his midfield arch-rivals for a spot on the podium? We'll find out once the racing action resumes in Silverstone on the 2nd of August.