F1 Throwback: When Juan Montoya Accused Michael Schumacher of Being Stupid or Blind
Published 01/27/2020, 1:32 AM EST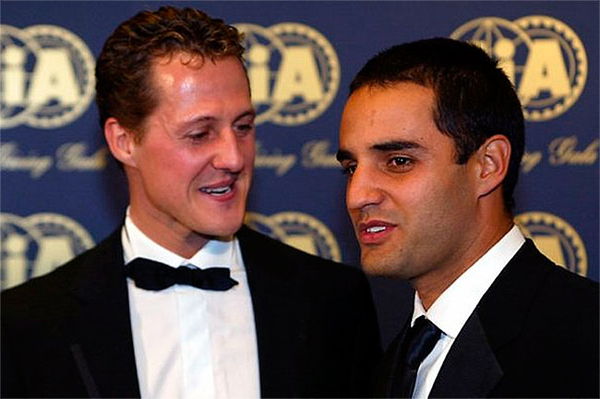 Juan Pablo Montoya– the fiery Colombian who never backed down from a fight, had some choice words for Michael Schumacher.
ADVERTISEMENT
Article continues below this ad
At the San Marino Grand Prix in 2004, Schumacher pushed Montoya off the road. The Colombian was trying to overtake the German on the outside.
Montoya on Michael Schumacher
ADVERTISEMENT
Article continues below this ad
The incident occurred at the start of the race. Michael Schumacher and Juan Pablo Montoya started the race in 2nd and 3rd positions respectively. Following a poor getaway, the Colombian was quick to catch the slow-starting  Ferrari of Schumacher. However, an attempt to swoop past the outside in a tight hairpin proved to be unfruitful.
The race was eventually won by Schumacher, but his defense didn't go down too well with Juan Pablo Montoya. The Colombian wasn't one to mince words in the post-race press conference.
When asked about the incident, Schumacher claimed the inside line was slippery and that he couldn't see the BMW-Williams of Juan Pablo Montoya. Montoya however, had a different point of view.
"Michael had a poor start and was slow out of the first chicane, so I went to pass him, he closed the door, so I had to back off,"
"I went for the inside and I was alongside him, but the next thing I see he is coming straight for me and he hits me hard enough to push me onto the grass," said Montoya, at the post-race press conference.
"oh no he didn't see me there", replied Montoya-sardonically. This was in response to Schumacher's claim of not 'seeing' the Colombian."You've got to be either blind or stupid not to see me. But, you know, it's racing".
ADVERTISEMENT
Article continues below this ad
Incident filled race
Ironically, Montoya aggressively closed the door on teammate Ralf Schumacher on the next corner. Eventually, the incident was ignored by the stewards and Schumacher kept the win.
The race was also Jenson Button's highest finish in Formula 1 at the time for BAR-Honda. The Briton started on pole by setting the fastest lap- as a result of a lighter fuel load. This meant stopping earlier, handing Schumacher the win.
ADVERTISEMENT
Article continues below this ad
Montoya and Schumacher have had many run-ins in the past, leading to some exciting wheel to wheel battles.
Montoya came close to winning the championship on two occasions in 2002 and 2003 but was beaten by Ferrari's Michael Schumacher on both occasions.