F1 Tire Supplier Reveals the Biggest Headache of the Year
Published 05/02/2020, 2:25 PM EDT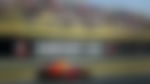 ---
---
The Grand Prix of the Netherlands won't happen this weekend. Additionally, the inquiry on how the tires would adapt to the banked turns stays unanswered for the present. Mario Isola of Pirelli says that it was very hard to set up the tires. Fans will have to wait for the definitive test of the restored Circuit Zandvoort. F1 has postponed the event in the wake of the COVID-19 pandemic.
ADVERTISEMENT
Article continues below this ad
There have been major upgrades to the Circuit Zandvoort lately. After an absence of 35 years, a lot of work was done to make the track race-ready again. Various stands were raised, the black-top was augmented and two awesome banking units were added to the circuit, which numerous American racing classes can draw on. Nonetheless, because of the COVID-19 pandemic, the arrival of F1 to the Netherlands will take somewhat more.
As the race is already postponed, it means the test for the ultimate Pirelli tires is also postponed. The tire supplier has been busy for months to decode the perfect tire for the banking of the Zandvoort circuit.
ADVERTISEMENT
Article continues below this ad
The Banking proved to be the headache for the F1 tire supplier
"That banking was our headache of the year I have to say", Isola says at 'Formula 1 Café' on Ziggo Sport.
Pirelli Boss is certainly not happy with the decision of postponing the race.
ADVERTISEMENT
Article continues below this ad
"I don't want to say that at all. That banking is something new, something exciting, but also tricky because the tires are under extra pressure".
"We did some simulations with the teams. The reason that we tested with that tire in Barcelona was purely to be prepared. If Zandvoort were to be driven now, I think we would drive on the normal tire with a higher pressure for the banked turns".
Even Jos Verstappen seems to be upset with no race at Zandvoort.
ADVERTISEMENT
Article continues below this ad
"This was a race the whole Formula 1 world was looking forward to. It should have been one big party", says Jos Verstappen in conversation with De Telegraaf. "I can't imagine that there will still be racing in Zandvoort this year. It is either with an audience or not. But in the end, this decision is up to the Formula 1 organization and the circuit. Otherwise postponing it to next year is an option."