F1 Twitter Fumes as Lewis Hamilton Makes an Embarrassing Mistake Involving George Russell
Published 09/01/2021, 3:32 AM EDT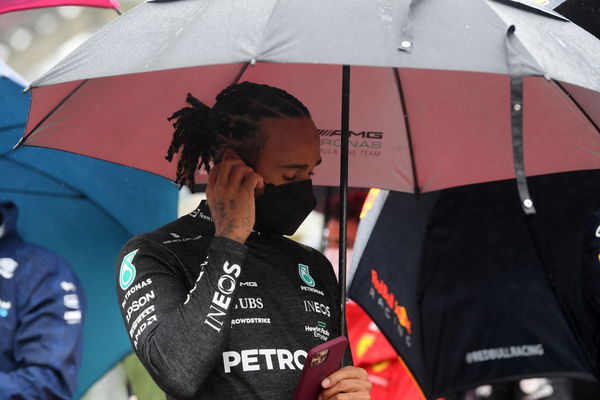 ---
---
Lewis Hamilton and his pet dog, Roscoe, have been one of the biggest stars of the 7-time world champion's social media profiles. In recent times, the Briton has often been updating stories starring the British Bulldog. Amidst the frequent cameos, a post showed up on Hamilton's profile early on Tuesday.
ADVERTISEMENT
Article continues below this ad
As expected, it was Hamilton and Roscoe! The duo was napping on the couch, resting against each other. However, something looked odd about the post. When analyzed, Hamilton had caused a hilarious blunder while attempting to tag Roscoe's profile.
ADVERTISEMENT
Article continues below this ad
Instead of tagging 'Roscoe Hamilton', the Mercedes driver ended up tagging junior Mercedes driver, George Russell. On a normal day, this wouldn't have been a huge deal.
However, the fact that the entire F1 community is speculating Russell to become Hamilton's teammate in 2022, led to a flurry of theories amongst the F1 fans. And of course, there was significant hate that grew out of the post.
Soon after posting the image on Instagram, Hamilton deleted it, but, unfortunately, considering his massive fan-following, it was too late, as several had already viewed the post and consequently noticed the blunder.
Twitter reacts to Hamilton's Russell conundrum
I guess lewis knows who his team mate is gonna be for the next year and is playing mind games so that russell would come into the team overthinking about these mind games which would affect his performance.

— Increo (@Shrestha_Sriv) August 31, 2021
Horner: This is unacceptable. Hamilton must be disqualified from the rest of the season.

Verstappen "fans": Hamilton is awful. Compared Russell to a dog.

Hamilton fans: "Funny mistake 😆 Roscoe is a lovely boy"

— Manuel Calavera | Wash you hands / Laven sus manos (@ManuelSanchezX) August 31, 2021
If you know how much Lewis love his dog, Russel should take this as a compliment

— redheness (@redheness) August 31, 2021
By mistake was it…not a hint to how his teammate will be treated…. 😂😂 🐶

— FormulaNerds (@FormulaNerds) August 31, 2021
Im pretty sure he just wants to say he owns Russell

— marcin (@waarcin) August 31, 2021
Bruh lookin at the comments everyone is taking this way too seriously it's just a funny mistake man

— Solace (@Sxlvce) August 31, 2021
Daaaamn he hasnt even been announced yet and hes already under the Kings foot as a lapdog😳😂😍

— Not Schlasser (@Sikarikerho) August 31, 2021
Poor George must've gotten all excited seeing that notification 😭😭

— Sanskriti Singh 💛 (@BmthTSLP5) August 31, 2021
Hate against Lewis Hamilton?
Well, not a surprise, isn't it? Where there is support, there is hate too. However, the hate against Hamilton outgrew following Mercedes' signing of Valtteri Bottas. On several occasions, Mercedes have demanded the Finn to make way for Hamilton in order to keep the latter in the driver's seat to win the championships.
ADVERTISEMENT
Article continues below this ad
Hence, amidst the Russell-Bottas switch rumors, this recent Instagram post caused the fans to come up with several bizarre theories. A few reckoned Hamilton was hinting that he 'owns' Russell, but most of the fans ended up comparing Russell with Roscoe.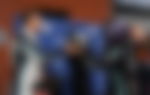 But, the truth? Well, it's simple. It was a silly mistake from Hamilton. And the fact that he took it off his Instagram page proves it all. But, the fans are still going strong.
ADVERTISEMENT
Article continues below this ad
Hence, will the hate against Hamilton ever come down in the future years? Well, only time will tell.
Watch Story: From Lewis Hamilton to the Miz: When F1 & WWE Crossed Over