F1 Twitter Fumes at FIA's Latest Statement on Abu Dhabi Scandal Blotting Out Lewis Hamilton's Return
Published 01/14/2022, 4:34 AM EST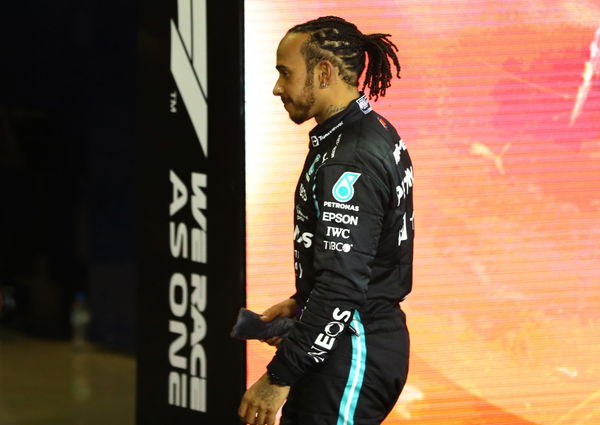 The Abu Dhabi GP was one of the most controversial races we have seen in recent history. The season finale was a thriller that kept giving one twist after another through the course of the race. The last moments witnessed some highly controversial decisions from the race committee. An exceptional season with a lot of grit and pace came to a polarizing end, and the dust doesn't seem like settling anytime soon.
ADVERTISEMENT
Article continues below this ad
The F1 community has widely scrutinized the role of race director Masi. Mercedes boss Toto Wolff shunned all the channels of communication with the Aussie after the race, and many even wanted him gone. After a huge backlash, the FIA finally announced that they will launch an official review into the matter headed by incoming president Mohammed Ben Sulayem.
ADVERTISEMENT
Article continues below this ad
However, another update on this matter came recently, and fans are not taking it very well. The FIA announced from its official handle that the administration has started the analysis and they will announce the final decisions at the World Motor Sport Council in Bahrain on 18th March.
With speculations around Lewis Hamilton's return, many were basing it on the outcome of FIA's report. However, this delay in the final decision has invited a lot of criticism among the fans, many even think it's just a token move from the highest authority. As it stands, Hamilton's decision to bow out of his seat or to stay cannot be based on the report as it will come right before the 2022 inaugural GP.
Twitter F1 reacts to FIA's delay in investigating Abu Dhabi debacle
The highest body came under the radar after their latest announcement. The sporting authority is under tremendous pressure to investigate the last lap incident. Twitter is taking digs on the FIA for this delay, and some have no hopes of any concrete decision.
So you need two months to understand that inventing new rules mid race is not a good practice? I suppose whatever the outcome that will be drawn from this will take another few years to implement too?

— Simon Dau (@there_is_no_if) January 13, 2022
Why are you taking so long to conclude your box-ticking exercise?

The fact that you intend to conclude this only two days before Bahrain testing clearly shows that nothing will come out of your analysis … https://t.co/GZkkTKMMQA

— Edmund Sebetsa®️ (@EdS_888) January 13, 2022
The delay of the FIA report until the Friday of Bahrain effectively forces Lewis to make his decision whether to return or not without knowing what changes will be made, or who (if anyone) will face accountability.

It is the definition of a dilatory tactic.#F1 https://t.co/QqeitohF8T

— Bryson Sullivan 🇺🇲 (@NaturalParadigm) January 13, 2022
Top tips:

1⃣ Permanent stewarding panel for @F1 races
2⃣ Independent appeals process
3⃣ Apologise + restore trust
4⃣ Tighten regs so they're Masi-proof
5⃣ Forget #WWF1 'sports entertainment'
6⃣ Get #MasiOUT #REFORMula1

— Rob Myers (@RobLMyers) January 13, 2022
Honestly I don't care anymore

Yes I was happy max verstappen won but was it fair? No. They didn't follow there own rules, however we should not punish max for this shit. My verdict is Masi out, and keep max as champion

— LfcMan379 (@LMan379) January 13, 2022
So, you'll announce the findings at the first race of the season? Fully knowing that Hamilton is likely weighing his options based on the outcome of the investigation? So, you don't want him in Bahrain?

— Lars M. Hansen (@LarsCanGame) January 13, 2022
I dont get your point about red bull. But the championship is done and dusted and like it or not max won it.

— mar dema (@DemaMarcE) January 13, 2022
ADVERTISEMENT
Article continues below this ad
Day dreaming, but the best case scenario would be for F1 to admit the error and announce max and Lewis share the trophy

— IT IS WHAT IT IS (@needufcdaily) January 13, 2022
ADVERTISEMENT
Article continues below this ad
Now, Lewis Hamilton and Mercedes need to decide the future course of action for the team. With around a month left for the winter testing, fans are eagerly waiting for Sir Lewis' return to the grid for more rounds of intense title fights. What is your prediction about the same?