F1 Twitter Mocks Red Bull's New 'Spacesuit' Racing Gear on Verstappen & Perez
Published 10/07/2021, 1:49 PM EDT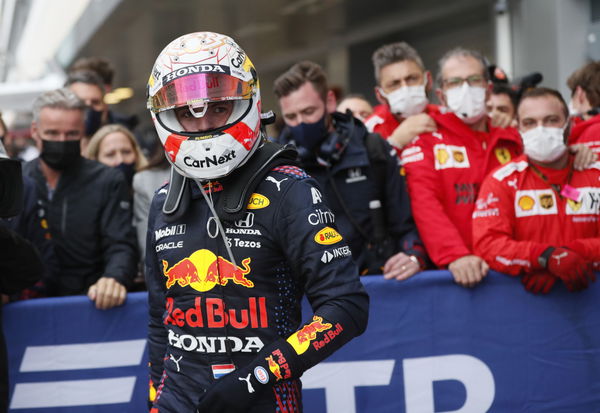 ---
---
The upcoming Turkish Grand Prix is all set to be a memorable race weekend for Red Bull Racing and their engine supplier, Honda. The duo will be celebrating their 3-year union with a special one-off livery on both cars.
ADVERTISEMENT
Article continues below this ad
This celebration was supposed to take place at the Japanese GP. But, to Honda's dismal luck, the pandemic denied them a proper farewell from F1 with a race in front of the home crowd. Hence, Red Bull instead chose Turkey as the alternative. So, let's look at the livery.
ADVERTISEMENT
Article continues below this ad
Of course, the design looked absolutely stunning, almost resembling the 2020 AlphaTauri livery, except there's no Black on this, and rather the usual 'Red' Red Bull logo on either side of the engine cover. And the fans, too, have offered positive reactions to this White livery.
However, it is the drivers' racing gears that have caught the fans' attention. There were quite a lot of hilarious opinions on the racing suits of Max Verstappen and Sergio Perez. One of the fans even claimed the gear to look like the spacesuits, astronauts wear at NASA.
Twitter reacts to the new Red Bull racing gear
We managed to come across a handful of interesting opinions on Twitter, most of them being amusing. We've handpicked a few of them for the readers. Take a look at them!
Reminds me of NASA astronauts' spacesuits

— tejas (@nottejas) October 7, 2021
I like the white Red Bull, not too sure on the white suit though😬 #TurkishGP

— Molly Harrington (@m_harrington19) October 7, 2021
Imagine Red Bull purposefully bottle a 1-2 because drivers are reporting possible shit stains on the white race suits and it wouldn't be a good look on the podium

— Ten (@MercedesAMGW10) October 7, 2021
That redbull suit is ugly as hell

— chrissy (@chrissyoriginal) October 7, 2021
I feel like I am the only one out there who doesn't like the white redbull livery & suits 😅
I mean they are not ugly, but I think they nothing like Redbulls iconic usual dark blue livery & suits 😍

— Rianne (@Ririannef1) October 7, 2021
the Red Bull livery and suits for this weekend are not good. 😂

— Thando (@uShozi) October 7, 2021
I don't think I like the red bull Honda special race suit? Love the car livery but the suit design is very meh….? Lando's and Daniel's Monaco suits were far better

— Wiwin (@marianiwiwin) October 7, 2021
am i the only one who's not a fan of the white red bull suits 😭

— nic (@seventeenslando) October 7, 2021
Mercedes troll Red Bull's one-off livery
The Brackley outfit mocked Red Bull's new 'White' livery by relating the upcoming special weekend to Mercedes' own that took place at the 2019 German Grand Prix around the Hockenheim Ring. There was immense hype around the race weekend, and the probability of a Mercedes 1-2 was high on cards.
But, in the end, Mercedes had an absolutely awful Grand Prix, as all they ultimately garnered was a measly 2 points, coming from Lewis Hamilton while his teammate crashed out.
ADVERTISEMENT
Article continues below this ad
The only other team to celebrate such a weekend were McLaren, earlier in Monaco this season, cherishing a milestone with their long-term partners, Gulf Oil. And unlike for Mercedes, it was a rather peaceful outing for McLaren.
ADVERTISEMENT
Article continues below this ad
Now, it's Red Bull's turn! But, the biggest question is, how will their weekend go? Will they follow McLaren's success or endure Mercedes' heartbreak?
Watch Story: From Spice Girls to Earth Livery: Top 5 F1 Car Launches of All-Time