"That is How You Win Championships"- Mick Schumacher Hails Team Efforts Following F2 Win
Published 09/26/2020, 7:33 AM EDT

Follow Us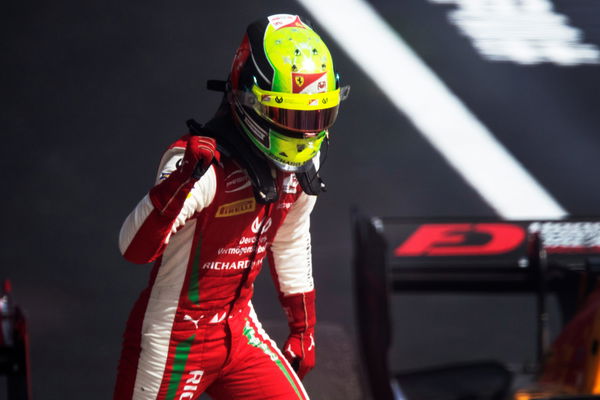 Mick Schumacher added more points to his name after winning the F2 race at Sochi. The young racer certainly has a knack for exceeding expectations behind the steering wheel. Despite the challenging conditions at Sochi, the driver did not let the pressure tell and displayed his mettle.
After the race, as the racers made their way towards the podium, Mick was in for a quick interview. Son to the legendary Michael Schumacher, the racer not only wins races but also wins hearts with his conduct. Mick Schumacher is slowly building up to be a generational talent like his father.
ADVERTISEMENT
Article continues below this ad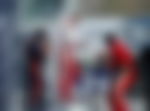 On being asked about his win, the German replied in a manner similar to his demeanor.
"I guess we can be quite happy with P1 now. We had the speed already qualifying to do a good job. So I'm very happy that we managed to convert this to a race win. Definitely congratulations to the team that made a mega job to get the car out and do this well."
Mick Schumacher greeted with tremendous applause
His excitement definitely showed as he couldn't wait to get up on the podium along with fellow Ferrari junior Callum Ilott and Carlin's Yuki Tsunoda. Mick Schumacher received the warmest applause from the fans.
On making his way to the podium, the fans greeted the young racer with loud applause accompanied by whistles and cheers. They had fulfilled the warmth of the fans that the drivers were missing. The German greeted them for support throughout.
"Its been quite empty the last few races and obviously now having more fans is nice. So very much thank you everybody for arriving here and coming and supporting us. Hope you enjoyed the show."
ADVERTISEMENT
Article continues below this ad
Further on, the racer also shared how his hard work with his team had finally paid off. He stressed on how every race is important for the penultimate prize.
"I mean obviously the hard work we have done with the team really pays off now. We have managed to be consistently fast at every track we go to. That is very good, and that is how basically you win Championships at the end, by being consistent, by getting those podiums, points.
"I would have also been satisfied with a P2 today, just as long as I stay in front of Callum." said the german before he made his way for the podium.
ADVERTISEMENT
Article continues below this ad
Mattia Binotto was present at the tracks, closely analyzing the future prospect for the distressed Ferrari F1 team. And a P1 finish will most certainly have helped the German's cause!
READ MORE- Mick Schumacher Aiming to Break Lewis Hamilton's Records If He Makes It to F1