Fans Hope for Lewis Hamilton Collabs in Hollywood Amid Links With Superstars Selena Gomez, Post Malone & More
Published 05/16/2022, 9:04 AM EDT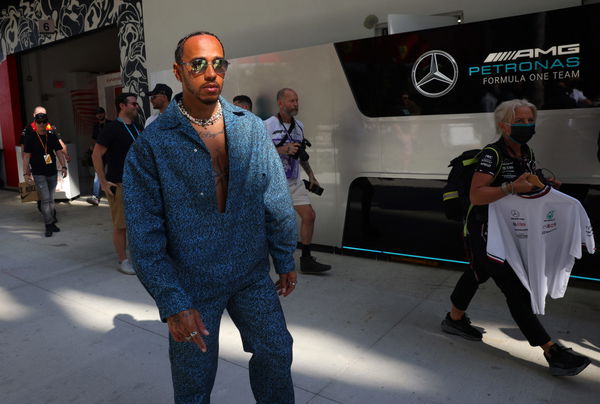 Lewis Hamilton is enjoying his life to the fullest at the moment. The British driver has achieved everything in Formula One there is to achieve and more in his legendary career.
His excellence on the track has opened new avenues off the track which have enabled him to meet with his idols. Recently, he met one such idol when he visited the set of Saturday Night Live in New York.
ADVERTISEMENT
Article continues below this ad
Hamilton took to his Instagram stories to post a picture with legendary comedian Kenan Thompson. The Mercedes driver revealed that he has been watching Thompson since he was really young and has admired him since. " Been watching @kenanthompson most of my life. Legend" wrote Hamilton during his meeting with the comedian.
Lewis's fans were stoked with his latest visit to SNL and took to social media to share their reactions to him spending time with Selena Gomez, Kenan Thompson, and Post Malone.
Not Sir Lewis Hamilton being the reason I'm gonna watch SNL

— Amber(They/Them) 🏳️‍⚧️🇵🇸 (@SoWhoIsAmber) May 16, 2022
Lewis Hamilton is at the snl after party?????????????????
Selena and Lewis are at the same event ??????
Do not play with my feelings like that

— D🥀 (@tay_chaeng) May 15, 2022
That was the best SNL I have seen in a long time! So much chemistry with everyone💯

— Donna (@dssj04) May 15, 2022
Kenan and Kel the 🐐

— naingolan balotelli dybala (@r1d166y) May 16, 2022
On the track in 2022, it has been a tough time for the 7-time world champion. But the former F1 driver and Sky Sports pundit Martin Brundle refuses to count out the legendary driver.
Martin Brundle backs Lewis Hamilton amidst his struggles
The Sky pundit mentioned he refused to believe that the glory days were behind for the Mercedes driver. Brundle revealed that, according to him, Lewis is not thinking about retirement right now and will bounce back at some point this season.
ADVERTISEMENT
Article continues below this ad
"All of a sudden, he's fed up, he's had enough, he should retire. That's just utter nonsense. His car's not working… let's hope Mercedes can get the car working sooner or later," said the Sky pundit.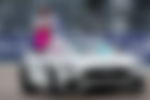 "It's way too early to talk about Lewis leaving. It's only a few months ago that we were wondering whether the Brazilian GP weekend was Lewis' greatest-ever drive. I loved his line – 'it's my masterpiece and I'll decide when it's finished' – I thought it was genius. I think that summed it up perfectly. He can call the shots," said Martin.
ADVERTISEMENT
Article continues below this ad
WATCH THIS STORY: From Cristiano Ronaldo to Shaquille O'Neal: When Other Athletes Mingled With F1 Stars
Realistically, it looks like he will not win his record-breaking 8th world championship this season. But, there are still a lot of places to go in 2022, which will give Mercedes hope they can drag some performance out of their W13. Let's see where Hamilton finishes when it's all said and done at the end of this season.