Fans Left in Shock as Unearthed 2017 George Russell Tweet Sheds Light on 2022 F1 Season
Published 05/02/2022, 12:10 PM EDT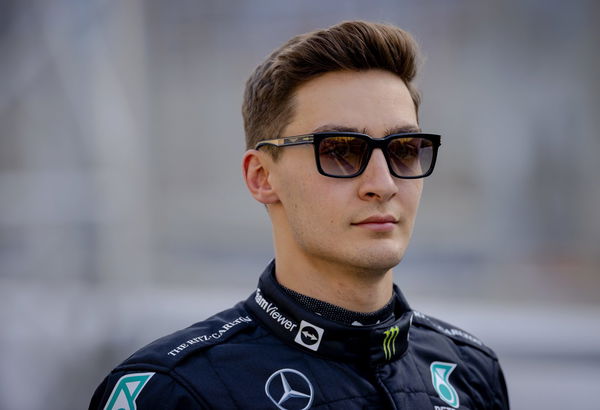 This season, George Russell is driving for Mercedes F1, a dream he has had since his junior days. The young Brit was certain even five years ago that he would drive for the Silver Arrows one day. But what's more interesting is that he was even sure about where his friends would drive in the future.
ADVERTISEMENT
Article continues below this ad
The 24-year-old grew up in the Mercedes academy. When it was his time to enter F1, he joined Williams as the Silver Arrows wanted the young Brit to gather some experience before eventually moving to the Brackley-based team. However, Russell predicted back in 2017, when he was not even in F1, that he would become a Mercedes driver.
ADVERTISEMENT
Article continues below this ad
Russell tweeted back in 2017, where he uploaded a pic alongside former F1 driver David Coulthard and his friends Lando Norris and Charles Leclerc. He even captioned the tweet with "Mercedes – McLaren – Ferrari." It seems he was pretty sure that he would drive for Mercedes, and Norris and Leclerc would join McLaren and Ferrari, respectively.
Fans react to George Russell's prediction in 2017
The Mercedes man did predict five years ago that he would become the driver for the Brackley base while his friends Norris and Leclerc would go to the Woking and Maranello base. So, the F1 fans looked back at this tweet to comment that it did happen. Let's take a look at those tweets.
i came from the future to say it's true!

— Elenara Castro (@CastroElenara) October 31, 2021
i would say you're ahead of your time dear George

— nanny⁴⁴ 🏁 lewis hamilton in met gala (@nannyham_) November 1, 2021
What a visionary

— Madie 🏁| RACE WEEK🇺🇲 (@Madiethebadieee) May 1, 2022
bc of the junior programs me thinks ✨

— jess⁹³ 🦄 🇪🇸🇲🇨🇺🇸 (@parralesjesss) May 1, 2022
Nico Rosberg suggests George Russell not be a 'walkover'
So far, there hasn't been much competition between the Mercedes duo. This season Lewis Hamilton is struggling with the 2022 challenger and having a hard time to even finishing in the top 10. Meanwhile, Russell is finishing higher than Lewis despite having similar issues.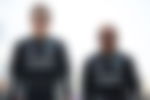 Former Mercedes driver Nico Rosberg advises Russell to not let go easy on Hamilton as there can be an intense fight between Russell and Hamilton in the future. Rosberg is one of the few drivers who have defeated Hamilton to win a championship.
ADVERTISEMENT
Article continues below this ad
Rosberg said to Sky F1, "Especially against someone as great as Lewis it's important for George to not show he's just a walkover, to get the elbows out in a measured way right from the get-go and show Lewis 'you need to respect me as well'."
ADVERTISEMENT
Article continues below this ad
Currently, Russell is ahead of Hamilton in the 2022 drivers' standings. While George is at P4 with 49 points, Lewis is at P7 with 28 points. Do you think Russell will again finish ahead of Lewis in the upcoming Miami GP?
WATCH THIS STORY: Lewis Hamilton Shows Off New Tattoo Ahead Of The Upcoming Met Gala