"F*ck Why?!": Fuming Charles Leclerc Harnesses Inner Michael Schumacher as Ferrari Blunder Jeopardises Monaco GP Victory
Published 05/29/2022, 12:10 PM EDT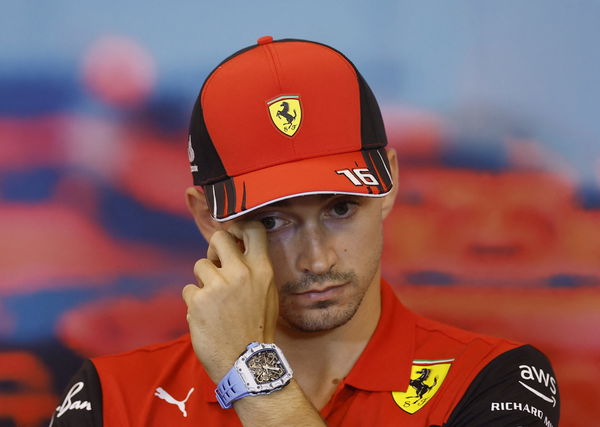 Charles Leclerc is channeling a former Ferrari world champion, but not for the right reasons. The Ferrari Monegasque started on pole, an important aspect in Monaco. After a delayed and rolling start to the race because of a heavy downpour, the crew's job became even more important as strategic decisions took center stage at the Monaco Grand Prix race.
And this is exactly where the Ferrari crew made a mistake. Similar to the qualifying incident, a wrong and confusing call to pit for Charles cost him the race lead. This incident not only put him behind his teammate but behind the Red Bull of Max Verstappen on the track of Circuit de Monaco.
ADVERTISEMENT
Article continues below this ad
This incident obviously infuriated Leclerc as we could hear him on the team radio as he entered the pit lane. The Monegasque, having never finished a home race, Was in the best position to not only finish but win the Monaco Grand Prix. But the poor decision-making from the Ferrari crew might have just cost him the race.
Watch This Story: Ricciardo Redemption Frozen Bottas: Dramatic F1 Moments In Monaco GP History
And his frustration was evident as the Monegasque channeled his inner Michael Schumacher during the second red flag incident.
"Box now. Box." came in the call. But as soon as Leclerc entered the pit, he was asked to stay out. Frustrated, Charles just screamed on his team radio, "F**k! F**K!!! Why? Why?? What a fool!"
Infuriated, Charles Leclerc storms the garage during the red flag
During the second red flag, Leclerc stormed the garage demanding answers for the wrong call. However, we're not sure how helpful would've been the entire exchange. But Ferrari and Leclerc kept calm and focused on finishing the race.
📻 | Charles:

"We have lost." 💔

— Ferrari News (@FanaticsFerrari) May 29, 2022
nah lmao everytime they show charles leclerc's radio my heart drops this man has me traumatized

— andy (@iiiuminateandy) May 29, 2022
The fuming Leclerc recreated the iconic Michael Schumacher photo as Twitter points out. Both drivers doing the same thing, for the same team just years apart.
Does Monaco hate Charles Leclerc that much?

— F1 Reaction Pictures (@FormulaReaction) May 29, 2022
Ferrari prioritising Sainz over Leclerc this race is reminding me of when they prioritised giving a departing Raikkonen a tow in Monza qualifying over championship hopeful Vettel.

— Taylor (@TPowling_) May 29, 2022
charles leclerc is in a championship battle with ferrari

— Holly 🏁 (@lentaholly) May 29, 2022
ADVERTISEMENT
Article continues below this ad
Would not like to be on the Ferrari pit wall having to listen to Charles Leclerc right now 👀 #MonacoGP #F1

— PlanetF1 (@Planet_F1) May 29, 2022
We can all agree the Ferrari pit wall might have just cost Leclerc his first win in Monaco.
ADVERTISEMENT
Article continues below this ad
But this brings up a bigger question: Can Ferrari handle the pressure of a championship fight?
Edited By: Ranvijay Singh