Fernando Alonso reveals that there are certain 'lies' that have been spread out about his career. He also revealed that he was shown 'in shock' after the 2012 Brazilian Grand Prix. Fernando Alonso was racing with Ferrari in 2012. There is an image of him where he was thought to be in shock. However, he has now cleared the air surrounding the famous image. Alonso says pictures proposing "the story was that I was in shock or sad" are inaccurate. He was in truth searching for his then Ferrari colleague Felipe Massa, who had completed third behind Alonso and race champ Jenson Button. The 38-year-old Spaniard said he had always been the target of many lies throughout his career.
"There are lies about my career that are not the truth," said Alonso.
"I got out of my car and I was looking at Felipe, who for some reason could not stop crying. He was with his mechanics and wife, so I was standing there waiting for him, seeing if he was okay. The story was that I was in shock or sad – no, I didn't care that much. I wanted to give Felipe a hug," he concluded.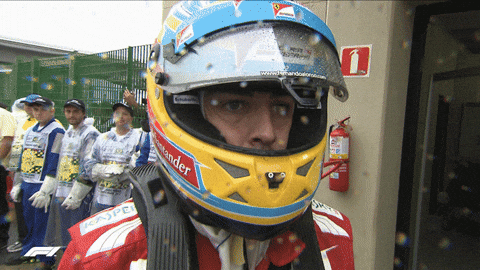 Race Day for Fernando Alonso
Sebastian Vettel had a 13 points lead over Fernando Alonso before the penultimate Brazilian Grand Pix of 2012. Title contenders Vettel and Alonso both struggled, qualifying on 4th and 8th position respectively.
Vettel got away poorly, dropping to the seventh position, while his rival Alonso moved up into fifth.
Vettel and Bruno Senna crashed at turn 4 out of a hustling occurrence, which saw Vettel turn while Senna wound up hitting the back of Pérez. Vettel endured harm to one side sidepod however had the option to continue, in 22nd position. Jenson Button won the race, Alonso came second and Felipe Massa was in the third position. It was Massa's 2nd podium finish of the year.
Vettel secured the sixth position by bravely overtaking the likes of Michael Schumacher and other amazing drivers on the grid. The sixth position for Vettel was enough to win the 2012 Drivers' championship as Alonso was on the second position. Fernando Alonso lost the championship by a mere 3 points.
Championship runner-up Fernando Alonso expressed pride for his team, going so far as to call the 2012 season "the best season of my career."
Abhay Aggarwal
I am an avid follower of Formula One, Baseball, Cricket, and Lawn Tennis #MercedesAMG #Yankees