Fernando Alonso vs Michael Schumacher: Former Renault F1 Bosses Speaks on the Comparison
Published 03/27/2020, 11:52 AM EDT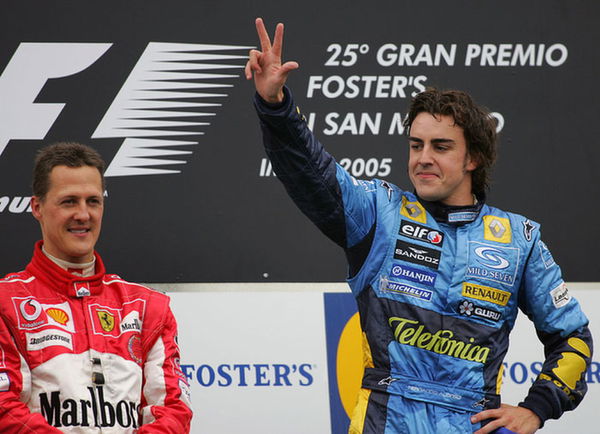 ---
---
Former Renault F1 boss, Flavio Briatore believes that Fernando Alonso was at the same level as Michael Schumacher. He was featured in a recent episode of F1's Beyond The Grid Podcast.
ADVERTISEMENT
Article continues below this ad
Talking about his time with Alonso at Renault he said, "For me, there was one race, in Imola. We won the race and Michael finished second. You see these two champions were basically similar."
During the podcast, he was talking about the 2005 San Marino GP being the race that truly displayed Alonso's potential.
ADVERTISEMENT
Article continues below this ad
He said, "For 15 or 20 laps, Michael was in the gearbox of Fernando. Fernando put zero mistakes. Michael put zero mistakes. Amazing, amazing, amazing."
"Always, I've had this race in my mind. For me, there were very similar drivers."
Notably, Alonso was the one who ended Schumacher's era of dominance and it was the San Marino Grand Prix, 2005 which the former team boss remembers fondly. The two drivers hold an extraordinary spot in the Italian's heart. During his time both of them won two drivers' titles each. Michael Schumacher at Benetton and Fernando Alonso at Renault F1.
Fernando Alonso Was Less Emotional Than Schumacher
Talking about his experience working with the ace drivers he said, "Fernando is Spanish but was less emotional than Michael. While his relationship with the mechanics, Michael was pushing everybody to the limit, but Fernando as well."
ADVERTISEMENT
Article continues below this ad
"Fernando is kind of a Rottweiler, you know he never gives up in a race."
Following spells at McLaren F1, Renault, Ferrari, and McLaren again in the wake of winning his two F1 world titles, Alonso announced his retirement at the finish of the 2018 season.
However, he has regularly talked about the chance of returning when the new guidelines become effective. And keeping in mind that that presently won't be until 2022, Briatore still accepts the now 38-year-old could return in 2021.
ADVERTISEMENT
Article continues below this ad
He said, "There are a lot of contracts expiring, with people moving up and down. We'll see."