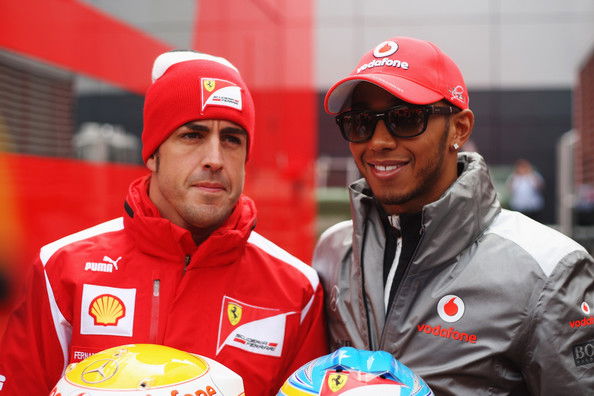 The talk doing the rounds at the moment is that Fernando Alonso may return to F1 with Renault. This move may renew the debate among Spanish fans and British ones regarding who is the better driver. Lewis Hamilton and Fernando Alonso are both F1 legends. While Lewis may have won 6 world titles to Alonso's 2, both of them have been brilliant drivers. Both of them are also very outspoken when it comes to talking about matters other than racing. They were also team-mates at McLaren in 2007.
Former F1 driver, Heikki Kovalainen (tries)  to take his pick between the two.
"Fernando Alonso was more ruthless than compared to Lewis Hamilton"- Kovalainen
Heikki Kovalainen was the latest to appear on the 'Beyond The Grid' podcast. When asked who among the two dealt with pressure the best, Kovalainen said, " I'd say that Fernando, all the way through his career, he was perhaps more ruthless. He would always take things to the edge and he would perhaps play more sort of, silly mind games."
However, talking about Lewis he said, " When Lewis was younger he was also doing that a little bit. Certainly, over the years, Lewis has gotten more confident on his sheer speed."
As a personality, Kovalainen says that Lewis was more polite as compared to Alonso. He feels that Alonso was more aggressive, ruthless, and direct with his feedback towards the team.
Heikki further said, " I think it's very hard to compare, which one was better under pressure. I think they both were really good, really excellent. I wouldn't want to say which one was better. It's not probably fair to compare."
The Finn also gives a reason as to why the Lewis and Alonso pairing didn't work for McLaren. He said, " They were so close on performance that they were always near each other on the circuit. I think their styles were clashing quite easily. They both had the killer instinct and the need to beat each other was too great."
Here is another instance of having two number one driver's not working. A situation Ferrari was all too familiar with last year. However, all's well that ends well they say, when Alonso left, Lewis took his chance and is now 1 championship win away from equaling the record set by Michael Schumacher. Not too shabby eh?