WATCH: Romain Grosjean Absolutely Loses It After a Horror Crash During the Tuscan Grand Prix
Published 09/13/2020, 10:56 AM EDT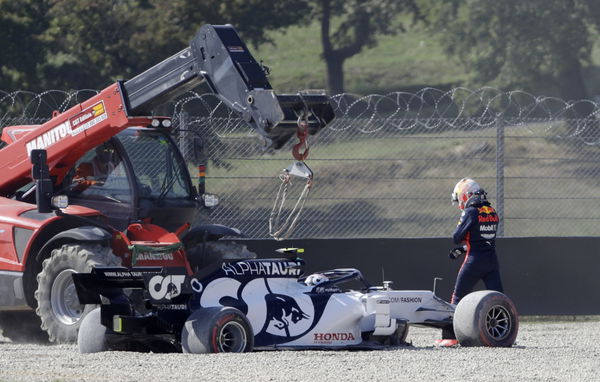 ---
---
The Tuscan Grand Prix is gearing up to be in the list of the most dramatic races of all time. With the safety car employed as early as in the first lap, Verstappen and Gasly are out. The red Mercedes drags the race onto the 7th lap from which the race restarts again. However, no sooner another misjudgment by Carlos Sainz leads to another four drivers exiting the race.
ADVERTISEMENT
Article continues below this ad
A colossal crash involving almost half of the cars in the race left huge amounts of debris on the track. Further adding onto the crash stricken Tuscan Grand Prix, all the cars suffered huge damages. Leclerc's tyres have faced heavy damages and Vettel had to have his front wing replaced.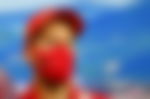 ADVERTISEMENT
Article continues below this ad
Dreadful Crash At Safety Car restart
The second crash took out Carlos Sainz Jr along with Latifi, Esteban Ocon and Magnussen and Giovinazzi. In his frustration, Grosjean yelled over his team radio saying," That was ******* stupid from whoever that was in the front. They want to kill us or what? *****. This is the worst thing I've ever seen.
"Carlos further clarified his mistake on the restart. He said,
ADVERTISEMENT
Article continues below this ad
"Im OK and looks like everyone is OK and that's the main thing because the crash was very scary. We were racing and suddenly looks like we weren't racing. I started breaking and by the time I saw everything it was too late. It's something to learn from here because its not a nice feeling to do 280kmh and suddenly find three cars stopped in the middle of the track."
It is undeniable that both the crashes were scary and its a miracle that damage was restricted to the cars. The racers were filled with dread had to make their way back into the pits as the session was stopped.
The race presently resumed with Hamilton grabbing the lead in starting seconds. Bottas stays glued to his tail with Leclerc and Stroll following close. Ricciardo maintains a steady at P5 with the other racers closing in fast.
ADVERTISEMENT
Article continues below this ad