Ferrari Engages in Hilarious Banter with Fellow F1 Teams Over Euro Cup Predictions
Published 07/11/2021, 2:54 PM EDT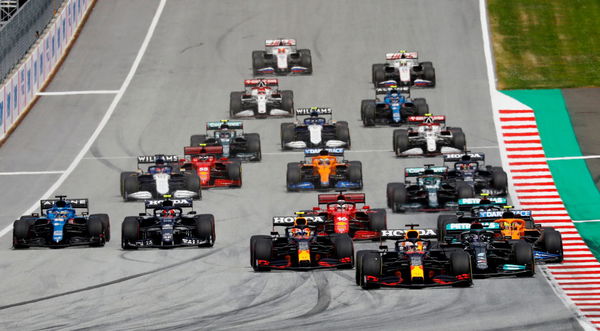 ---
---
The ongoing Euro Cup has given the F1 drivers another reason to be competitive. With the finals on the way, the Italian and British teams have taken to Twitter to show their support for their respective teams.
ADVERTISEMENT
Article continues below this ad
With the British crowds flooding the platform with #ItsComingHome and the Spanish with #ItsComingtoRome, the F1 teams are feeling the hype.
It started with Ferrari teaming up with Alpha Tauri, asking the English teams "Is it coming home or to Rome?"
ADVERTISEMENT
Article continues below this ad
To this, McLaren called Williams to arms by sending their player, Lando Norris. They painted a fair picture: "We can see it now, Lando races down the left-wing, crosses the ball to Russell, who heads it home at the back post."
The Williams Twitter admin joins in on the fun. "This man has been practicing headers…" they add to a picture of their Brit, George Russell.
Mercedes decided to join in on the fun against the Scuderia. They tweeted a humorous video on the platform. The video shows members of the Mercedes team sticking England's symbol on Ferrari's van.
The Euro Cup featuring F1 drivers
The competition isn't just between the Twitter admins of the team. George Russell called out Italian driver Antonio Giovinazzi on his Instagram story.
He reposted a picture of the two drivers wearing the jerseys of their respective teams. Gio replied to it by hilariously adding the "popopo" song with it.
Antonio Giovinazzi also posts about the Euro Cup a lot on his Instagram. His latest post read, "Let's not stop dreaming." Lando Norris, another proud Brit on the grid, dedicated his podium finish in Austria to his country. He captioned an image of him holding the trophy with the war cry of the British football fans.
It's endearing watching the teams and the drivers so fervidly supporting their national football teams. Everyone's using their week off to focus on the finals ahead.
Surely they will draw the same energy for the upcoming race at Silverstone. Maybe the English teams can really bring it home then.
Watch this story: From Will Smith to Nicole Kidman: When F1 & Hollywood collide
ADVERTISEMENT
Article continues below this ad
ADVERTISEMENT
Article continues below this ad