Ferrari F1 Coach Explains How Jacques Villeneuve is Responsible for Mercedes' F1 Glory
Published 08/11/2021, 9:01 AM EDT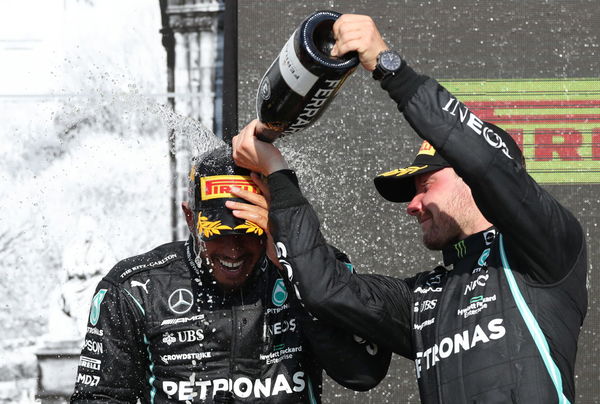 ---
---
Working in F1 for over 30 years, Jock Clear has a lot of experience within the sport. The Driver Coach for Ferrari sat down with the Beyond the Grid podcast to provide his insights on the drivers he has worked with. Clear was once the race engineer for the 1997 champion, Jacques Villeneuve, who is credited to help start the Mercedes F1 team as we know it today.
ADVERTISEMENT
Article continues below this ad
Jock reveals how Jacques had offers coming in from teams like Benneton and McLaren, but stayed loyal to Craig Pollock. "He said, 'I said to Craig if Craig starts a team, I'll drive for it. That's what I said, and that's what I'm going to do.'"
#OnThisDay in 1997, Jacques Villeneuve ate into a 35 second lead to claim victory at the Hungarian GP🏆

He chased down Damon Hill who was set to get his first win for Arrows. Hill took second and alongside Herbert in third. #F1 pic.twitter.com/U9Ps7JAJPy

— PlanetF1 (@Planet_F1) August 10, 2021
ADVERTISEMENT
Article continues below this ad
Jock praised this character in the driver, saying, "He had opportunities to go elsewhere… [he had] this strong ethical sense of sportsmanship that I recognized in him and I hugely respected in him."
Craig Pollock, who was Villeneuve's manager, founded the British American Racing team, or BAR; F1 now knows the team as Mercedes.
Villeneuve's history with Mercedes
Jock Clear and Villeneuve worked together with Williams F1. The Canadian driver was extraordinary on the track and was known for his eccentric-defying convention and willingness to challenge authority. However, according to Jock, Villeneuve's decisions back then only positively affect him now.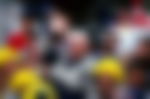 His shift to a new team instead of a well-established alternative was often talked about. Jock said, "People say he wasted the rest of his career, well that is now the team that is dominating F1. So, he can probably sleep well at night knowing that he started the team…"
Debuting as a constructor in 1999, BAR ran on Honda engines. The Japanese company then took over BAR as Honda racing in 2006. Honda left the sport in 2008. Ross Brawn purchased the team, forming Brawn GP weeks before the start of the 2009 season. Later, Mercedes Benz took over in November 2009 and became the team we know of today.
Can it really be 20 years since Jacques Villeneuve last scored an #F1 podium finish? Yes, it can be & it is: he raced this BAR 003 to 3rd place at Hockenheim #OnThisDay in 2001. Nice 3-wheeled pic by Steve Etherington. pic.twitter.com/cr4TnKk7R0

— Matt Bishop 🏳️‍🌈 (@TheBishF1) July 29, 2021
Looking back, Villeneuve was a part of something big, but Jock agreed he wouldn't count that as a personal accomplishment. "In an ideal world, he would have liked some success with that team." He explained how Jacques' exit from the underperforming team may have soured the memory.
ADVERTISEMENT
Article continues below this ad
Jock explained, "To build a team from nothing, I think he hoped that it would become a strong team by the end of his time, and he would be in the driving seat at that time…  It didn't go well for him personally, the fact that he stopped driving there at the end of 2003 and under not very nice circumstances. He certainly didn't enjoy that." 
However, Jock believes that laying the foundations of the current Silver Arrows isn't something to feel sorry about. "Fundamentally, I don't think he'd say he regretted starting that team."
Watch this Story: Ugliest Moments in Hamilton-Rosberg Rivalry
ADVERTISEMENT
Article continues below this ad
Jock Clear's insight into Villeneuve's run towards the end of his career is certainly eye-opening to F1 historians. The championship-level driver has a story worth reflecting on.