Ferrari Hints Exciting News for Callum Ilott Amidst Alfa Romeo F1 Links
Published 08/08/2021, 2:58 AM EDT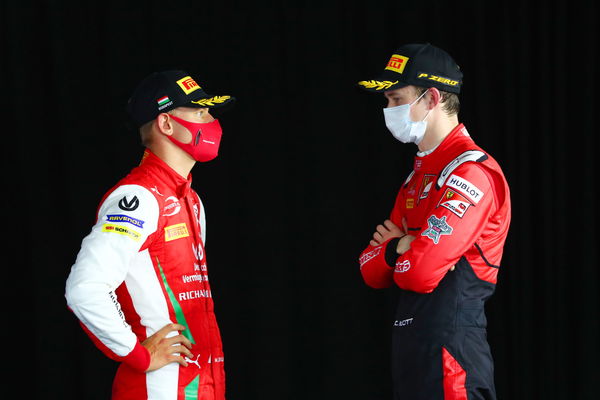 The induction of cost cap into F1 was met with negative reactions from almost everyone involved, but it received significant uproar from one of the most successful teams in the sport, Ferrari. In fact, the Maranello outfit even threatened to quit the sport and move into other competitive series. However, as days passed, the outcry subsided, and the team obliged to stick around in the F1 paddock.
ADVERTISEMENT
Article continues below this ad
But that's not it. They also affirmed that their outfit will enter the World Endurance Championship, with the regulations set to invite Le Mans hypercars from 2023.
Hence, with several interesting projects under the sleeve, Ferrari revealed the driver who will help steer the outfit in the right direction with his on-track inputs. And it is none other than SF21's development driver, Callum Ilott.
ADVERTISEMENT
Article continues below this ad
What does the latest Ferrari announcement mean?
F1 is set to witness one of the biggest regulation changes to the sport, and the teams have been vigorously working into developing their 2022 challengers. And it is the same with Ferrari as well.
Ferrari tweeted, "For those who don't know, Callum's been working with the team as our official test driver assisting in not just the #SF21's development, but future projects too."
Hence, the latest announcement could mean that Ilott will be a part of the '674 Project', which is under development and could be near completion by the end of 2021. Apart from F1, there is also the Le Mans project.
FIA announced the addition of the Hypercar category in the World Endurance Championship from the dawn of 2021. Subsequently, Ferrari, too, let out a statement showing interest in joining the WEC grid from 2023 and have since then kick-started the Le Mans project.
So, it isn't just F1 Ilott could be looking forward to, but also the Hypercar category.
Will Ilott make his full-time F1 debut in 2022?
The chances are very slim at the moment. Of course, all eyes will be on Alfa Romeo and their decision regarding Kimi Raikkonen and Antonio Giovinazzi.
As of now, if Raikkonen bids adieu to F1, Valtteri Bottas will probably be the driver to replace the Finn. Hence, Ilott's hopes of making it to F1 depend entirely on the future of Giovinazzi. The Italian has made significant performance gains since 2020 and has often defeated his teammate this season.
ADVERTISEMENT
Article continues below this ad
Hence, Alfa Romeo will be eyeing Giovinazzi's growth this year. And if the 27-year-old does fail to shine over the latter half of 2021, Ilott will come into the Italian outfit's radar.
ADVERTISEMENT
Article continues below this ad
So, if the future plays out as predicted, Alfa Romeo's 2022 line-up would comprise Bottas and Ilott – the perfect combination of an experienced Grand Prix winner alongside a rookie on a learning curve.
Watch Story: Ferrari Strategy Fails We Will Never Forget