'One Last Time Together': Ferrari Readying the Departure of Sebastian Vettel on Social Media
Published 12/08/2020, 1:15 PM EST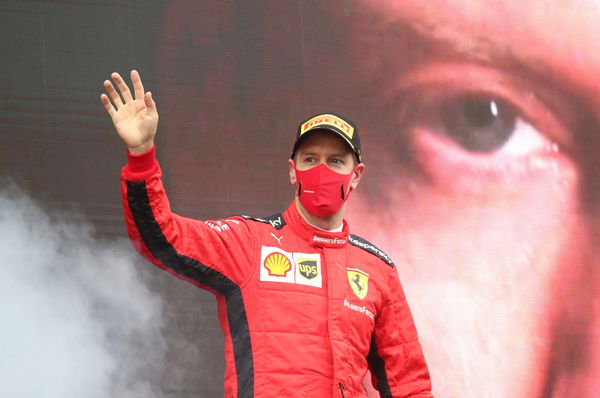 ---
---
The 6-year-long partnership between Ferrari and Sebastian Vettel is coming to an end. The team did not extend the 4-time World Champion's contract and are replacing him with Carlos Sainz. And ahead of the season finale, they are paying a tribute to him on social media.
ADVERTISEMENT
Article continues below this ad
ADVERTISEMENT
Article continues below this ad
One last time together, thankfully. Watching Ferrari and Sebastian Vettel has been a sorry experience for fans. Their marriage is coming to a bitter end.
The Maranello-based outfit failed to offer the German a competitive car this season. And Vettel has only made it worse with his woeful driving form this season.
A look back on Sebastian Vettel and Ferrari's relationship
Before it became strained, there were actually some sweet moments before. The German came to the team with heavy fanfare and huge expectations; carrying the baggage of a 4-time champion.
The 'Prancing Stallion' were in a rut. The 2014 campaign, 1st season of the turbo-hybrid era, was woeful for them. Fernando Alonso left for McLaren and they snatched Vettel from Red Bull.
He made an immediate impact; winning just his second race with the team at the 2015 Malaysian GP. It was their 1st win in over a couple of seasons.
He did not have to wait very long for his second win in the scarlet overalls either.
Vettel's helmet became an iconic symbol with Ferrari. It was a simple design with just the German flag on top. His helmet became synonymous with the team and could easily be spotted when he was driving the car.
ADVERTISEMENT
Article continues below this ad
Sebastian Vettel's dream was to emulate his idol Michael Schumacher in the red car. Like him, he hoped to take the team back to the top. However, it wasn't to be.
The car was too inconsistent to compete against the dominant Mercedes. His failed title challenge in 2018 did not restore his position with the 'Tifosi' either.
And when Charles Leclerc came along and started beating him, we knew he was a dead man walking. Ferrari has a famous 'Number 1' philosophy, and it was clear the German could only play second fiddle to Leclerc.
ADVERTISEMENT
Article continues below this ad
However, after all the turmoil and pain, the team and the driver are moving on. Hopefully, they find better luck without each other next season.