Ferrari to Reduce Pay for Charles Leclerc but Not Sebastian Vettel : Reports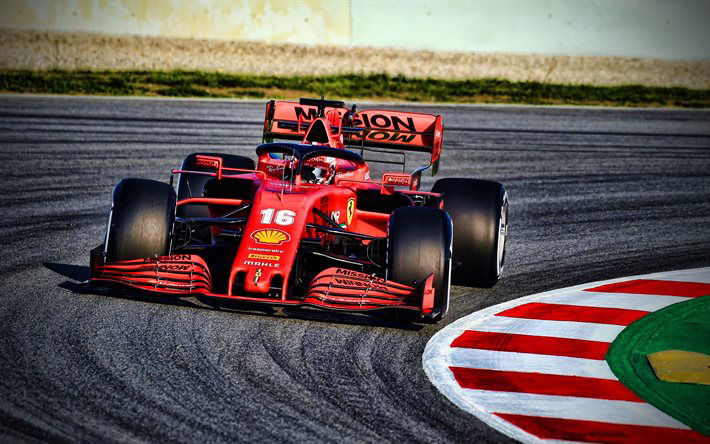 The impact of the COVID -19 pandemic has hit F1 hard. It has lead F1 to pass new rules and regulations which will be applicable from 2021 onwards. These rules and regulations involve a lower and uniform budget cap for all teams. As a result of that, teams have begun cost-cutting and laying off employees to adhere to the new budget cap. However, in the current fragile financial situation, F1 drivers are willing to take a cut on their salary to help other staff members in their respective teams. For example, Ferrari's Charles Leclerc has agreed to take a pay cut, however, his teammate, Sebastian Vettel hasn't.
Charles Leclerc to take a 25% pay cut, but not Sebastian Vettel
According to Corriere dello Sport, Charles Leclerc, who reportedly earns around $13.6 million a year will take a cut in his salary, which will bring his annual salary down to $10 million. This, the Monegasque driver does out of his own free will. Ferrari have not placed any compulsions on their employees to take a cut in their salary, to help the company.
However, unlike Leclerc, Sebastian Vettel hasn't taken any cut to his annual salary of reportedly around $28.3 million. Nevertheless, before people start attacking the German driver, he has agreed to donate a part of his salary, to a charity of his choice.
Sebastian Vettel follows in the footsteps of a famous countryman, world cup winning soccer player, Toni Kroos. Toni Kroos who plays for the Real Madrid football club said, "Give us the full salary and then we decide to whom we donate it. There are people who need it (money) more than the clubs."
The 4-time world championship winner is justified in his view. He'd rather help people who are getting no money to meet their daily needs, than a supercar manufacturing company.
Both Leclerc and Vettel will soon be in action for Scuderia Ferrari, once the season gets underway in Austria, on the 5th of July. After the friction between the two of them last year, it'll be interesting to see how Ferrari deal with the situation in 2020.