Ferrari's Social Media Post Triggers Key SF1000 Debate Amidst F1 Livery Fever
Published 10/06/2021, 11:23 AM EDT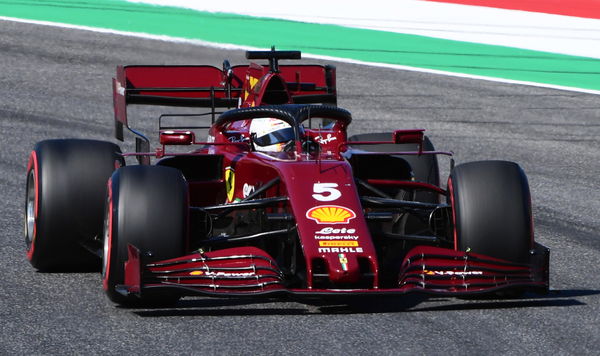 ---
---
Red Bull has triggered a conversation about liveries on Twitter. The team announced its new vintage livery, honoring its partnership with Honda. Having riled up the fans, Ferrari brings back their popular one-off livery.
ADVERTISEMENT
Article continues below this ad
While one-off liveries are unique to the race, they might just be too beautiful to let go of. Ferrari painfully reminded fans of the stunning 1000th GP livery from last season. Vettel and Leclerc raced in retro burgundy SF1000s in Tuscany and it was a sight to behold.
Ferrari fans yearn for a burgundy car
ADVERTISEMENT
Article continues below this ad
Having brought back memories of the deep red car, fans wanted it back on the tracks soon.
I demand this color for the main livery next year

— Porebog (@porebog) October 6, 2021
This was perhaps the most beautiful Ferrari livery we've seen in a looooong time. I'd love to see it come back ❤️

— Aishi (@VortexbyAishi) October 6, 2021
Honestly, I wouldn't mind this being your permanent livery. This is beautiful!

— Amogh Raj (@secondarydriver) October 6, 2021
Further, some fans argued about the appeal of having a one-off livery; its uniqueness adding to its value.
Then let's take is as the new main livery 😍

— Civil aka Meister Oogway (@CivilViNCi) October 6, 2021
Alas, a one-off livery remains unique to the event. The blood-red car looked stunning though, and the gloss! While the 1000 special was a good one to bring back, some fans shared their Ferrari favorites.
While others brought back liveries and debated about the permanence of special appearances, others came up with their own unique ideas. Maybe F1 can take notes!
Red Bull in a Renault livery and a heart with Horner and Cyril inside it 🤔😂😂

— George Saddington (@GSaddington) October 6, 2021
Further, the discussion of special liveries also brought back some bad memories for Mercedes. The Silver Arrows took to their nickname in a metallic silver car for the German GP in 2019. It didn't them the best luck, unfortunately!
Remembering the 1000th GP race
It was the first Tuscan GP last season as F1 made its way to the circuit in Mugello. It was an action-packed race marked by red flags with Leclerc finishing eighth, with Sebastian Vettel rounding out the top 10.
Charles Leclerc had initially found his way to a podium position after the second red flag, which was caused because of a domino of collisions. However, Lance Stroll pushed Leclerc back, pulling an impressive move on the Monegasque. Behind, George Russell stood withing points for Williams holding off Vettel. Soon, the German did what he did best and pushed his Ferrari to P10.
ADVERTISEMENT
Article continues below this ad
In what was an exciting race; with 12 laps to go and only 12 players on the grid after the final red flag. The Ferraris brought home their points that day but missed out on what could have been a thrilling podium position.
On the track owned by the team, double points weren't a bad result. The race had meant a lot to the historical team. As Piero Ferrari, Enzo Ferrari's son had said, "Scuderia Ferrari's 1000th Grand Prix is a very important milestone, therefore it had to be marked in a special way. That's why we decided to run a unique livery on the cars for this event, with the SF1000s taking to the track at the Mugello Circuit in the Burgundy color first seen on the 125S, the first racing car to carry the Ferrari name."
ADVERTISEMENT
Article continues below this ad
Fans clearly remember the special livery as the car remains among some of the most beautiful liveries to feature on an F1 track.
Watch this story: Ugliest Moments in Hamilton-Rosberg Rivalry