FIA Drops Controversial Helmet Change Rule
Published 03/07/2020, 5:44 AM EST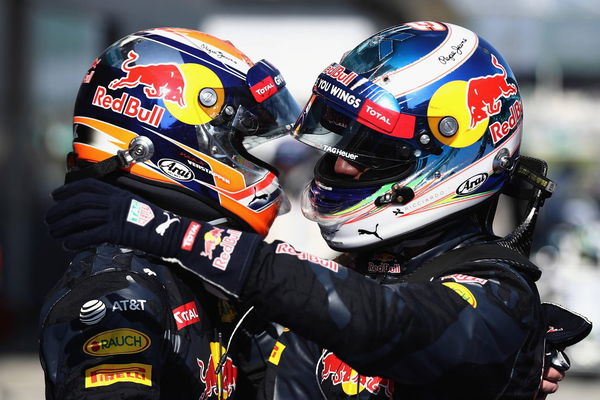 ---
---
There's finally some good news in the world of F1. Yesterday, the sport's governing body, the FIA, repealed a controversial helmet rule that is sure to please a certain section of fans. With Coronavirus playing spoilsport in multiple races, the new helmet rule is a breath of fresh air.
ADVERTISEMENT
Article continues below this ad
FIA removes the controversial helmet rule
Back in 2015, The FIA introduced a revised crash helmet rule that prevented drivers from frequently changing their helmet designs. Drivers could change their helmets only once a year at a single race event. Additionally, drivers could make minor modifications to the helmet but the base design had to remain unchanged.
ADVERTISEMENT
Article continues below this ad
The rule was implemented to promote easier driver identification. However, fans have questioned the rule in recent years due to the addition of the halo. The safety structure prevents drivers' helmets from being spotted easily from a distance. Moreover, many argued that the presence of driver numbers on the car's nose and body were easy to spot.
"A change to the 2020 Sporting Regulations was approved to allow for unrestricted variations to driver helmet designs between races" reads the official FIA statement.
Drivers will surely welcome this change and embrace the new rule. Wearing the same helmet design over the course of a season can become monotonous over time. Now, drivers can show off their artistic side with some innovative and eye-catchy crash helmets.
ADVERTISEMENT
Article continues below this ad
Ferrari's Sebastian Vettel is famed for his helmet designs. The German is unbeatable when it comes to unique and wacky helmet templates. Vettel would often debut new designs at nearly every race during his Red Bull days. It will interesting to see what Seb comes up with for the first race in Melbourne.
Some minor changes to 2020 rules
Apart from the helmet change rule, the FIA also announced a few modifications to the 2020 regulations. The Council has increased the minimum mass of the car by 1 kilogram owing to newer elements monitoring the PU. Additionally, the FIA also clarified that teams would be testing the new 18 inch tyres at the end of the season.
ADVERTISEMENT
Article continues below this ad
Furthermore, the FIA has established a crisis cell to monitor the ongoing Coronavirus scare. The epidemic has led to multiple cancellations of motorsport events including the F1 Chinese Grand Prix. The governing authority revealed that it would be watching closely and take appropriate decisions if required.