"First Grand Prix Under Water" – Sebastian Vettel's Cheeky 'Miami 2060' F1 T-Shirt Amidst Rising Environmental Concerns
Published 05/05/2022, 6:30 AM EDT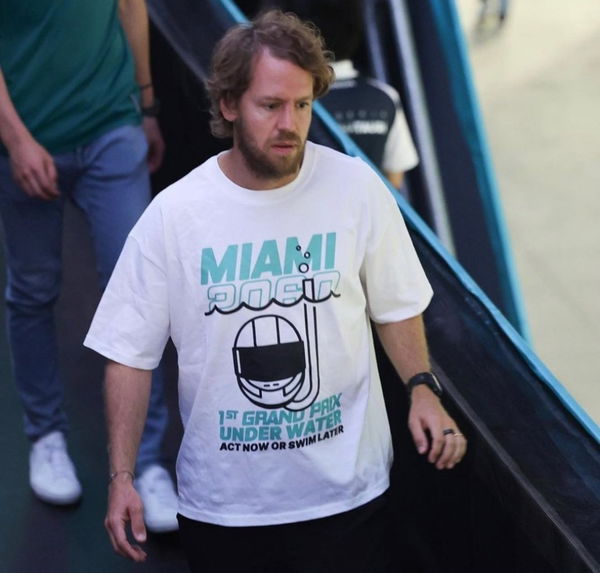 Leave it to Sebastian Vettel to make a statement! During the fan event for the inaugural Miami Grand Prix, the 4-time world champion made a statement by wearing a different kind of T-shirt.
ADVERTISEMENT
Article continues below this ad
For the past couple of seasons, Vettel has been at the very much environmentally conscious end, spreading awareness throughout the world about climate change. He did the same in Miami when he wore a T-shirt, mentioning that the city might host the first underwater race in F1 history in 2060.
ADVERTISEMENT
Article continues below this ad
"Miami 2060: first Grand Prix under the sea. Act now or you'll have to swim if you don't," read the T-shirt. Amid all this, Vettel also mentioned that he was looking forward to racing in a new circuit in F1.
"The track looks exciting, and it's obviously a new venue, so a new challenge for us. Yeah, I heard it's going to be busy, a lot of people, so looking forward," said Seb.
After Vettel concluded his comments, even Sky Sports presenter Naomi Schiff complimented the Aston Martin driver for his bold choice of clothes by saying, "Love the T-shirt."
Will we see Sebastian Vettel in Formula One next season?
There have been a lot of doubts about the future of the 4-time world champion in recent times. It looks like Vettel might retire from the sport sooner rather than later than his fans would want him to.
ADVERTISEMENT
Article continues below this ad
The 2022 Aston Martin is not as competitive as the German driver would have hoped. So it raises the question of whether we will see Seb racing in F1 in 2023 or not?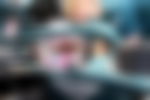 Vettel seems content with what he has achieved in his Formula One career until now. "I had an amazing 15 years or so looking back, and I was in a position to win championships, win a lot of races, fight for positions, get a lot of podiums, and obviously the taste was great," said Vettel.
ADVERTISEMENT
Article continues below this ad
WATCH THIS STORY: F1 Drivers on the Football Field Featuring Hamilton, Vettel & Schumacher
His contract with the team expires at the end of the season and, as of now, he has shown no interest publically in extending the partnership. So it is a possibility that he might leave the sport for good at the end of the 2022 season. But hopefully, his legions of fans around the world would hope that he stays on for a bit more time.