"F**king Ridiculous" – Verstappen Lashes Out at Reporter for Constant Hamilton F1 Questions
Published 07/31/2021, 12:17 PM EDT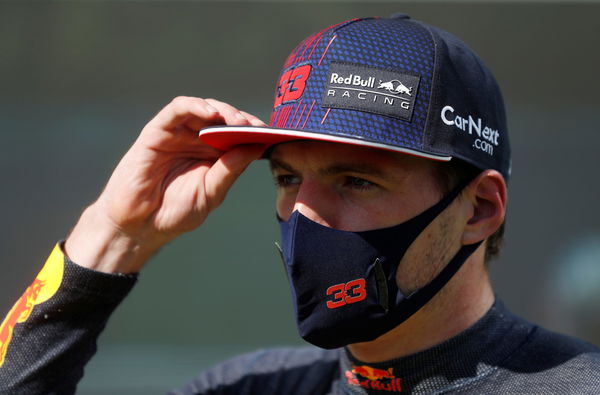 ---
---
It's been two weeks now since the horrific incident at Silverstone. There have been discussions about blame, phone calls, emails, the lot. And as much as people love a good fight on the track, maybe it's time to let the topic go. Facing a new race tomorrow, Max Verstappen seems to reciprocate the feeling. After a disappointing P3 in qualifying, Verstappen was now in the same room as Lewis Hamilton for a press conference.
ADVERTISEMENT
Article continues below this ad
Journalists in the room may have just crossed the line with Max; the Dutchman was furious at the thought of answering another question about the Copse incident. "Can we just already stop about this? Because we had so many f*cking questions about this, it's f*king ridiculous, honestly… can we stop about it please?"
ADVERTISEMENT
Article continues below this ad
Thomas Clarkson had asked the two drivers if they had any thoughts on the collision, and Max made his pretty clear. Unsurprisingly, Hamilton just nodded his head in agreement. With the added pressure of the championship, these two drivers have had a lot to face from the media. Therefore, Max's brief outburst was only fair.
Tomorrow's race will see the ultimate battle between the two teams before the summer break. Mercedes will grace the front row at Hungary, and in their rearview – the two Red Bulls.
Max Verstappen and Lewis Hamilton – a modern rivalry
Lewis Hamilton has been in the F1 spotlight for as long as one can remember, which would obviously bring its own set of rivals. Lewis has said, "I've been racing a long time so I've raced against all sorts of characters." But Max sets himself aside as one of his strongest rivalries.
The two drivers are extremely civil off the track. Silverstone caused a minor hiccup between the two, but as sportspersons, they share a certain level of respect for each other. Verstappen hasn't made things easy for Hamilton. Hungary has been the Brit's first pole in seven races- an incredible feat by Verstappen.
ADVERTISEMENT
Article continues below this ad
Verstappen put it quite simply, "We are racers. We all race. So of course we're going to race hard and fair so we just keep pushing each other." Max has proven himself to be one of the best drivers of the new generation. Lewis, being the legend he is, has finally met his match on the track. The friction between the two will surely ignite the competition for the top of the board.
ADVERTISEMENT
Article continues below this ad
Max and Lewis have little left to say to each other, or to the rest of the world. They will lay all conversations out on the track tomorrow as the two championship protagonists battle it out for the ultimate position on top of the leaderboard.
Watch this story: Mad Max: Verstappen's Angriest Rants on Team Radio