Flow-Vis: What is the Green Paint Used By F1 Teams?
Published 03/12/2021, 6:14 AM EST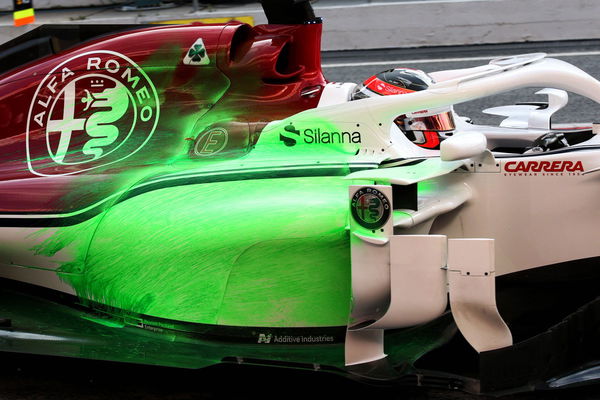 ---
---
In terms of technological advancements, no other sport even comes close to F1. Teams showcase their savvy tools all throughout the season, but we get a more intricate peek when it's time for pre-season testing. So, amid the program happening in Bahrain right now, we wondered about the fluorescent green paint on some of the cars.
ADVERTISEMENT
Article continues below this ad
No, we are not talking about the absurd green, part of the Ferrari livery. But something rather temporary on the sides, rear, and front of some of these cars. It is the flow-visualization paint, or the flow-vis, as teams call them.
It is not actual paint but an oily substance, usually paraffin, that is mixed with fluorescent powder. The engineers spray it on parts of the car which they wish to investigate.
ADVERTISEMENT
Article continues below this ad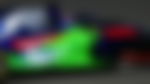 What is the use of Flow-vis paint for the F1 teams?
In a nutshell, it is used for the aerodynamic understanding of the car. They paint it on the car and when the paint is still wet; the car goes out on the track. Now, as the car drives around through corners, the airflow moves the paint, leaving detailed patterns on the car as the paint dries up.
Now, when the cars return to the garage, the engineers can then analyze the flow structure, ie the spots where the paint is separating. It helps the aerodynamicists to understand and rectify the problems in a car, such as an imbalance through the corners or drag in a straight line.
It is like a wind tunnel for teams, rather it is out on track and the wind isn't artificially created in a room. They can even check their findings and information gathered in the wind tunnel and measure it against the flow structure of the car using the flow-vis paint.
But isn't that risky?
ADVERTISEMENT
Article continues below this ad
When someone like, say a Mercedes, is out on track with a flow-vis paint and gets back to the pits, it may give other teams an opportunity to photograph their car and understand their flow structure. So, yes, it is risky if you do not take the right measures.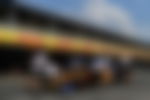 So, as soon as a car comes back into the pits, you will generally observe teams covering it with screens to prevent others from spying on it. Hence, it is an effective aerodynamic tool for the F1 teams.
ADVERTISEMENT
Article continues below this ad